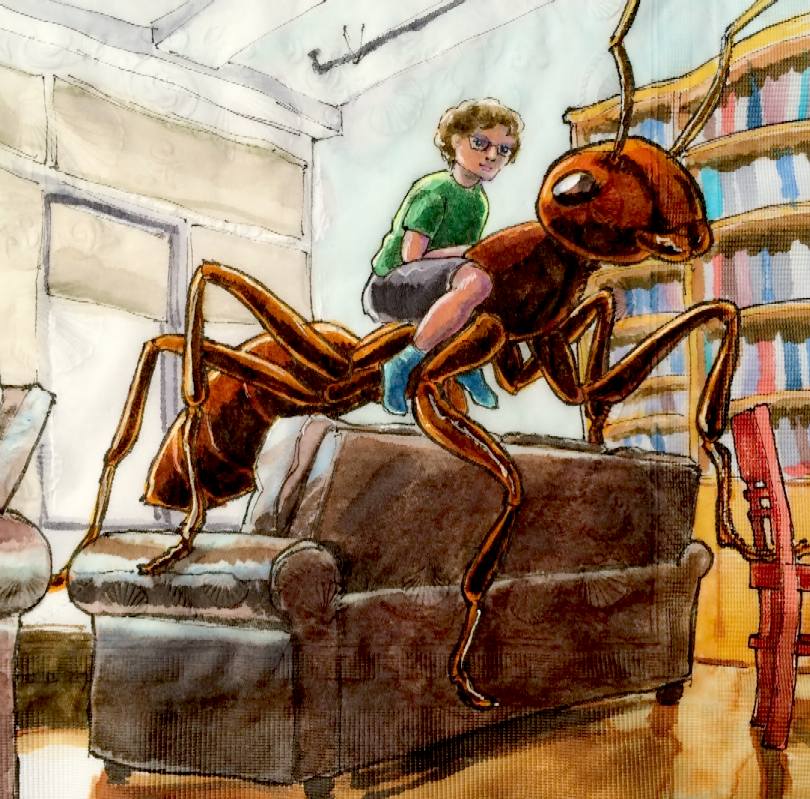 JIMMY WATSON - His mother, Marion, teases her son about his dreams to build a large robot ant with a drawing of her son riding on the ant's back. Then it comes true.

CHIEF CONSTABLE, METROPOLITAN POLICE, LONDON, SCOTLAND YARD
Harold Tom Holland, is known as 'Dirty Harry', after the Clint Eastwood movies. He is also nicknamed 'Dutch' because of his surname. He is the ultimate corrupt Chief Constable of Britain's Metropolitan police, based at Scotland Yard. With connections to serious organized crime bosses. Making him all but untouchable.
He is always on the lookout for fresh back-handers, cash earners, and fat brown envelopes that includes selling secrets to corrupt counterparts in the CIA. Using his Interpol connections to identify opportunities.
Harold Holland is contacted by Jack Mason, for any dirt on Jimmy Watson, or his father Tim, that DARPA might be able to use to bribe the General, or even, Field Marshall Sir Rodney Dunbar. Who has on occasion been useful to some degree.
Some of his secondary income comes from turning a blind eye to drug money, and other immoral earnings, as part of a justice culture, where judges may be bought, and need to tow the line, or not be selected, by an equally suspect Ministry of Justice, the Crown Prosecution Service also being liberally riddled with soured Masons in need of a second income. And that is all the insurance he needs.
There are though, many honest officers in the ranks, and independent Judges. And this is where corrupted law officials need to be particularly adept at dodging honest bullets. Recognising those recruits enthusiastic about creating a transparent society, based on fairness and decency - and demoting them, or otherwise obstructing their progress, or even constructively dismissing them, if they question the institutionalised discrimination, and culture of doing favours - such as simply not investigating crimes committed by those in the fold.
He sometimes wishes that he'd chosen the righteous path, fancying himself as one of the Knights Templar, in another life. Where deep down the level of organised crime in the UK is causing serious National Debt, from money laundering activities, that should either be prevented, or taxed. This worries him. And gives reason to 'Dirty Harry,' occasionally feeding criminals back into the Justice System to be imprisoned. Pangs of conscience, if you will. Even though this might be dangerous to his health.
Harry is divorced, working his way through the female ranks and secretaries, who are fool enough to be seduced, as part of a career move. His roving eye is the reason his wife, an analyst in a different anti-terrorism section, left him.

Harold, is a tall, slightly overweight man who dresses impeccably, when not in uniform. He is balding, with dark hair and grey tinges. He has a rather large nose, Sherlock Holmes style. He also suffers from hemorrhoids, from a rich diet, a condition that makes him somewhat irritable at times, and occasionally incapacitates him - much to his annoyance.

Harry's passion is a game of golf at the weekend, usually Sunday, when the crime rate has dropped. This helps him to reduce his cholesterol level - even though his game is average. He can always kid himself, and expand on the one or two lucky shots on the green, at the 19th hole. Yes, Harold likes a whisky and soda or two. The Famous Grouse, or sometimes, a good single malt - when the going gets tough.
He drives a cherished Jaguar E-Type, often too fast for built up London, even when sounding his siren. He has spent years and buckets of his slush money on restoring this vehicle. And does not care one jot about the cost. Because to him, the vehicle is so beautiful. Harry is fond of James Bond movies and other spy movies, such as Harry Palmer, in the Ipcress File. And crime movies, such as the Italian Job, again with Michael Caine as the star.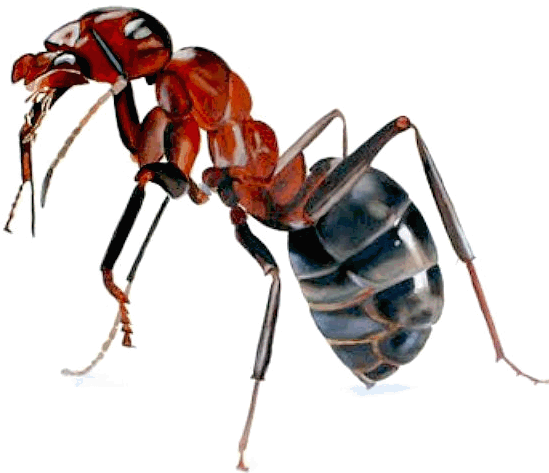 MAGIC DINOBOT CAST
| | | |
| --- | --- | --- |
| PROTAGONISTS | - | DESCRIPTION |
| - | - | - |
| | - | The DinoBot hexapod AI activated, modern autonomous gladiator |
| | - | British Prime Minister, an unusually honest politician |
| | - | Santa Claus |
| | - | MI6 robotics & human enhanced soldiers R&D |
| Felicity Victoria Morrell | - | Headmistress, Church of England primary school Herstmonceux |
| | - | Physics teacher, Hailsham Community College |
| | - | Programming boy genius |
| | - | A Mathlete & Jimmy's ally |
| | - | Private Secretary to the King & Queen |
| | - | British & Commonwealth head of state |
| Marion Watson (Mrs) | - | Wife of Timothy, mother of Jimmy, retired teacher |
| Peter Colin Morgan | - | Headmaster, Hailsham Community College |
| | - | Consort to King Charles III |
| | - | Teacher, technical & IT, Hailsham Community College |
| | - | President of the United States of America |
| | - | British (MI6) Army General, stationed in Germany |
| - | - | - |
| | | |
| --- | --- | --- |
| CHARACTERS: ANTAGONISTS | - | DESCRIPTION |
| | - | |
| | | |
| --- | --- | --- |
| Detective Harriet Rose Winter | - | Special adolescent liaison officer |
| | - | Chief Constable, Metropolitan police, Scotland Yard |
| | - | School chum of Johnny Baxter, bully & vandal who hates nerds |
| | - | School bully, Jimmy's nemesis (The Johnson) |
| | - | US CIA operative, enhanced soldiers programme DARPA |
| Inspector Nigel Matthew Coltman | - | Stationed at Deer Paddock, Hailsham |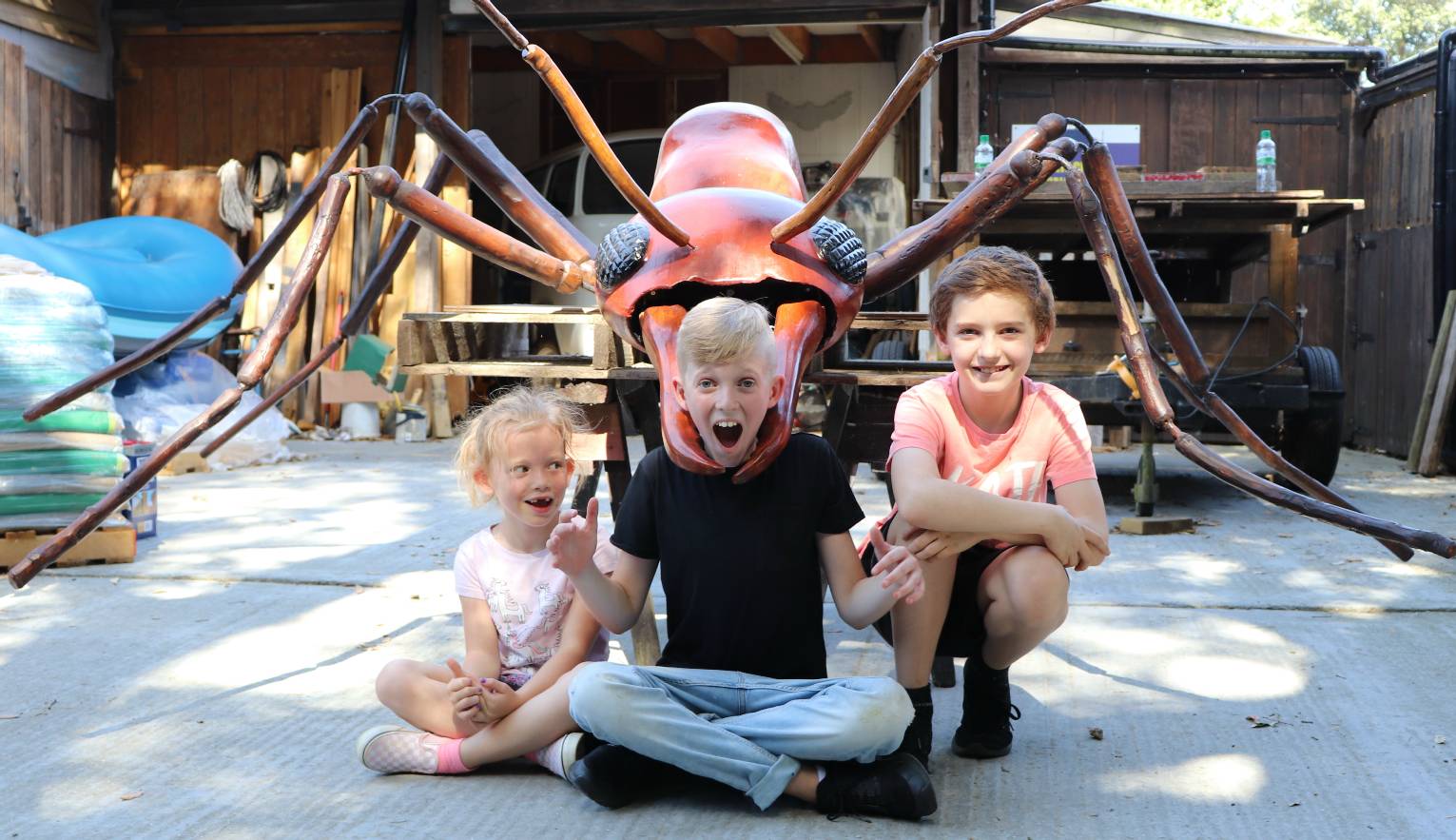 Some of Jimmy Watson's friends, with the Magic Dinobot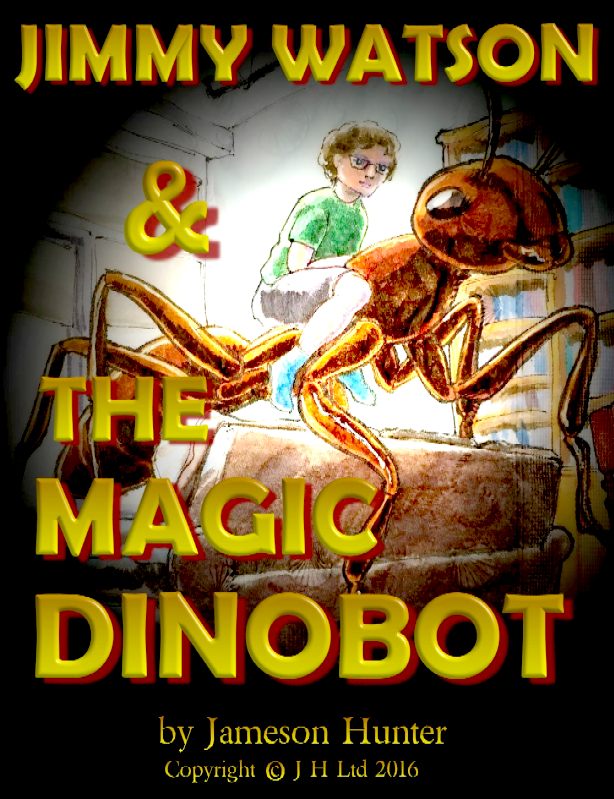 THE MAGIC DINOBOT - From Jameson Hunter, an original TV series idea, germinated in 2016. Jimmy dreams of building a giant robot ant as a special project, then one day his dreams come true when the robot he has built is transformed into a living, breathing, companion. NOTE: This story is Copyright © Jameson Hunter Ltd, March 30 2016. All rights reserved. You will need permission from the author to reproduce the book cover on the right or any part of the story published on this page.