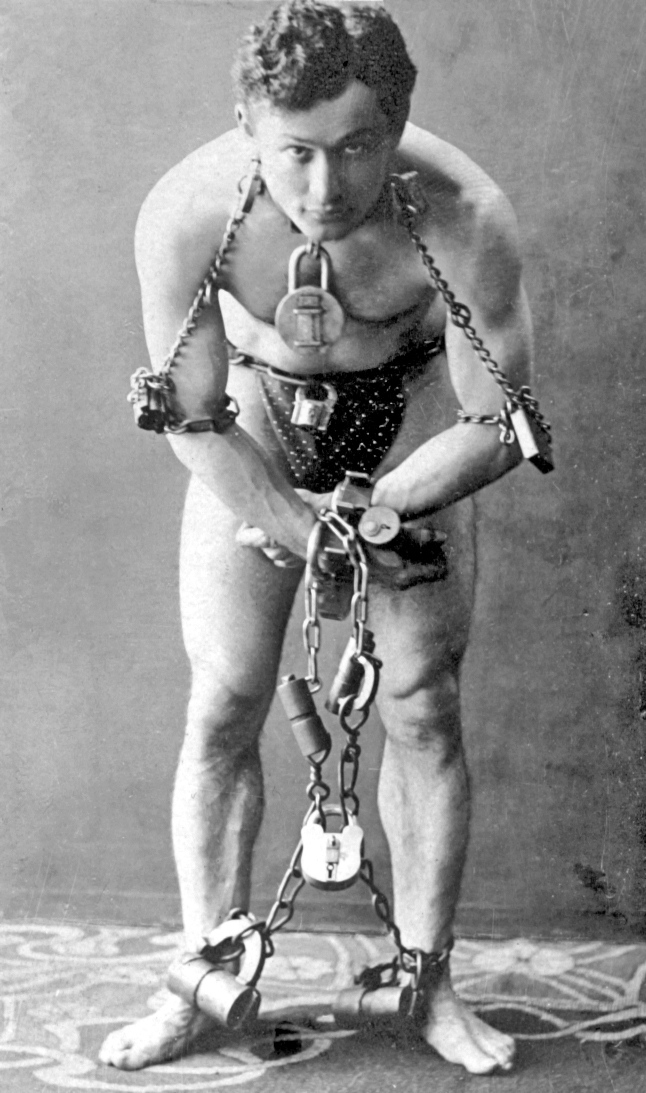 In September 1900, Houdini was summoned by the German police prior to his first performance in the country who suspected his act was fake. Subsequently in Berlin, he was stripped naked and forced to perform an escape routine in front of 300 policemen. Houdini was tightly restrained with "thumbscrews, finger locks, and five different hand and elbow irons". He was able to escape in 6 minutes, and later used the stunt in advertising. Subsequently in 1901, a newspaper in Cologne accused him of attempting to bribe a police officer in order to rig an escape attempt, and paying a civilian police employee to aid him with another performance. Houdini sued the newspaper and the police officer for slander. As part of the trial, Houdini was asked to open without the aid of tools one of the police officer's handcrafted locks, which the officer had said that Houdini had tried to bribe him for. Houdini was able to do so, and won the case.

What is magic? Magic is where the majority of people, witnessing an event, cannot explain it. In days of old, women who healed people, were called witches. The early chemists, were called alchemists, a kind of sorcery. It is the theoretical opposite of science.
Today, card and coin tricks look spectacular. But all are based on slight of hand and misdirection.
Many things that were not understood, were met with strict opposition. Even scientists were treated badly and branded heretics. Heretics and those who practiced witchcraft, were burned or drowned. That was how much the less well informed treated men and women of science. Mind you, anyone who preached political freedom and equal rights for all, were also persecuted.
Today, even the church take a different view. Science is now welcomed, doctors are valued members of society, no matter the kind of medicine they practice. The world is more enlightened. But still, we have things that cannot be explained, and we call these miracles. Like when someone recovers from serious cancer, and there is no medical explanation. Even from specialist surgeons and the like.
Jesus Christ, walked on water, fed hundreds with just a few fish and loaves, and ascended to heaven, rising up from the dead, the Cup of Christ. The fabled magician Merlin, performed miracles for the mythical King Arthur Pendragon.
The Ancient Egyptians believed in life after death, and worshiped many gods. They also believed in curses. Witches were said to cast spells and make magic potions: Hocus, pocus.
Some of the most amazing tricks were from escapologists, some of the most death defying illusions, using elaborate devices to create their illusions. The most famous of which was Harry Houdini and escaping from a padlocked container, that was immersed in water. An extremely dangerous trick, that claimed many lives.
Magic, sometimes spelled magick, can be ancient practices rooted in rituals, spiritual divinations, and/or cultural lineage - with an intention to invoke, manipulate, or otherwise manifest supernatural forces, beings, or entities in the natural world. It is a categorical yet often ambiguous term which has been used to refer to a wide variety of beliefs and practices, frequently considered separate from both religion and science.
Today, Artificial Intelligence (AI), where a machine can sometimes outthink a human, or be used to predict shopping patterns, and even chat with a human, intelligently, might be viewed as a kind of magic. Certainly so, in the case of Jimmy Watson, and his Magic Dinobot.
A - Z OF MAGIC
Alchemy
Amulets
Ancient Egyptians
Book of the Dead
Card tricks
Double dealing
Embalming
Fiddle Sticks
Ghosts
Gladiator - Ridley Scott film 2000, Russell Crowe
Goblins
Harry Houdini
Harry Potter
Illusionists
Jesus Christ
Kismet
Life after death
Magic Circle
Magicians
Miracles - Walking on water
Mojo
Narnia
Origami
Poltergeists
Potions
Q Branch
Religious rites
Rising from the dead
Sorcery
Spells
Spooks
Tim travel
Underworld
Vivaldi
Witchcraft
Wizards
Xanadu
Yin Yang
Zanzibar
CHAPTERS - CHARACTERS - FILMS - MAGIC - PLOT OUTLINE - SECTASAUR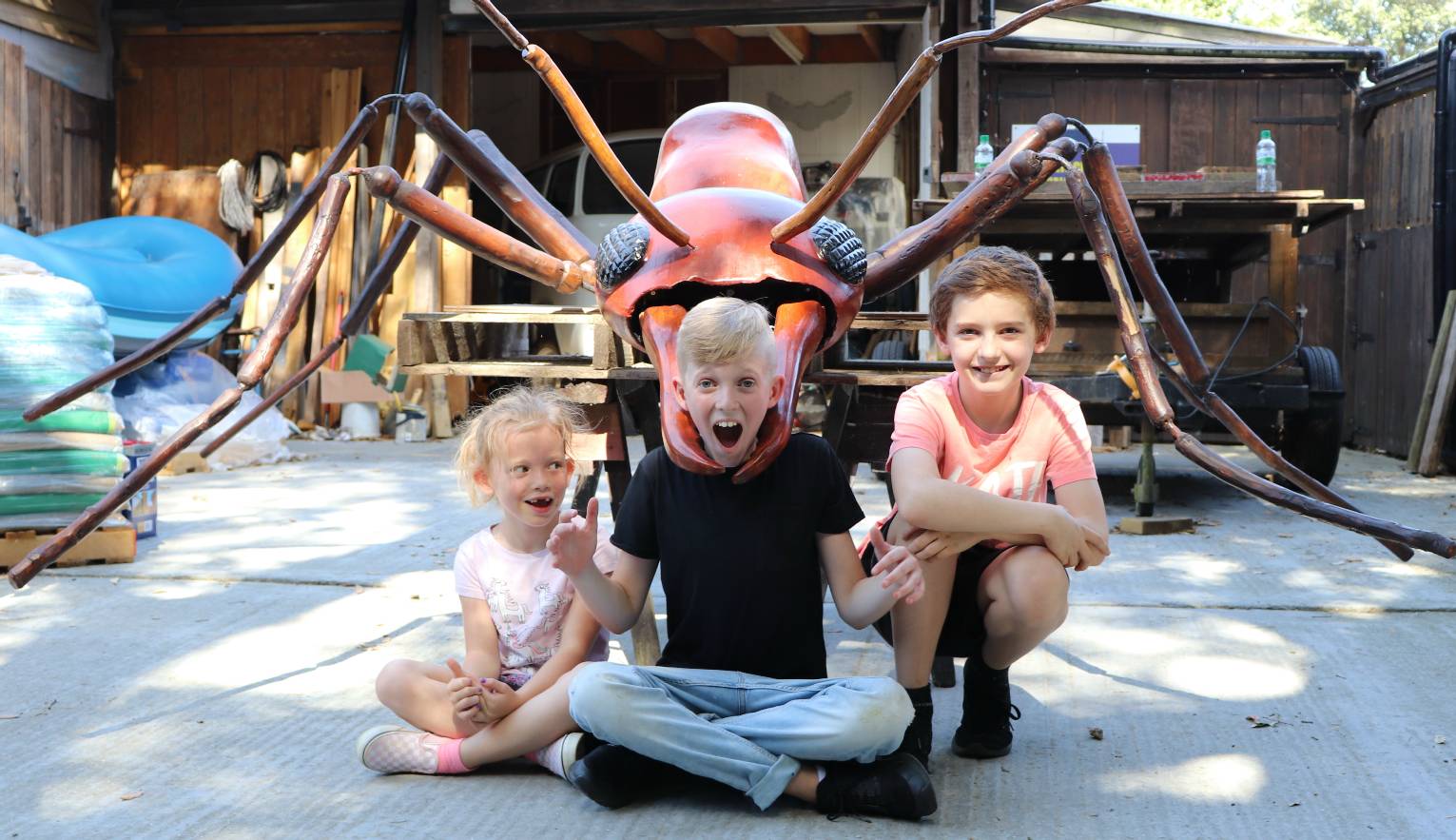 Some of Jimmy Watson's friends, with the Magic Dinobot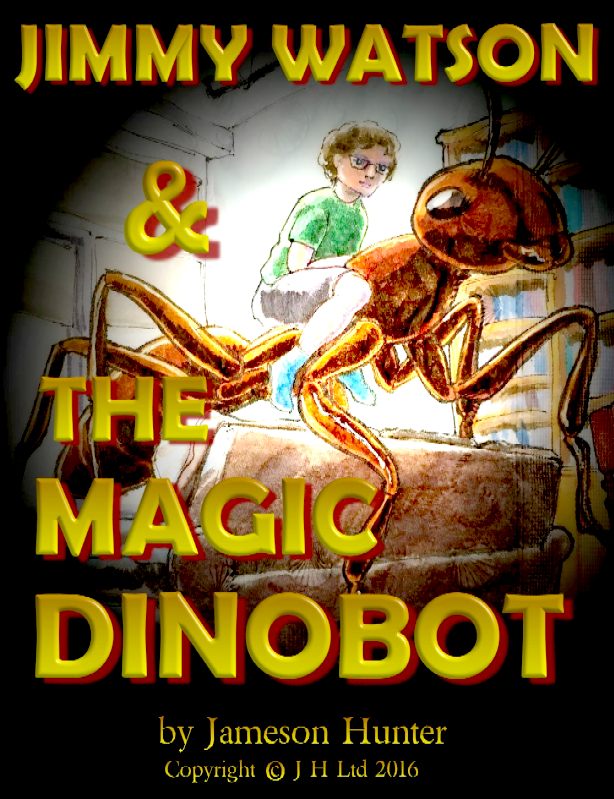 THE MAGIC DINOBOT - From Jameson Hunter, an original TV series idea, germinated in 2016. Jimmy dreams of building a giant robot ant as a special project, then one day his dreams come true when the robot he has built is transformed into a living, breathing, companion. NOTE: This story is Copyright © Jameson Hunter Ltd, March 30 2016. All rights reserved. You will need permission from the author to reproduce the book cover on the right or any part of the story published on this page.
ANTICS - ARMOUR - ARTWORK - BLACK BOX - ELECTRONICS - ENERGY - FRAME - HEAD - JAWS - KITS - LEGS - MECHANICS
MOTORS - R/C DRONE - SENTRY - SOFTWARE - SOUND PROOFING - SPEED - SUSPENSION - TAIL - WARGAMING - WEAPONS