UK Based Paintball Magazines:
Most paintball magazines are now published digitally, as the small readership numbers mean that its not viable to get magazines printed in a hard copy anymore. In these magazines you can find equipment and event reviews.

Website: www.paintballmagonline.com Facebook Page

Website: www.paintballscene.co.uk Facebook page
UK Student Paintball Network:
Started in 2009 networking a few University Paintball Society clubs together, the Network has grown into a community of some 25 societies and clubs across all of the UK and Ireland. There is usually an annual student cup, where all of the societies compete. Main Contact: Jim Graham
UK Based HPA Testing:
Hiigh Pressured Air bottles or "HPA" bottles must be tested by a professional and certified company, Paintball bottles are closely linked to Diving bottles – most diving shops are able to test your air bottle, and they are also licensed to fill air bottles should you need to fill your air bottle.
Inspectorate for Diving Equipment Servicing & Testing
IDEST is accredited by the United Kingdom Accreditation Service (UKAS) which operates under a Memorandum of Understanding with the Government through the Department of Business, Innovation & Skills. UKAS ensures that bodies like IDEST run their certification scheme in accordance with International Standards for Accredited Certification such as ISO 17024:2012. A list of test stations can be found on the Scuba Industries Trade Association Website
Paintball Forums:
Paintball forums are a great source of knowledge and opinions, looking for a team? want to find out what the best paintball markers are for tournament paintball? Head to the Forums and ask the Paintball community!
Paintball Charities: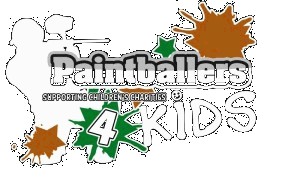 Paintballers 4 Kids is a charity initiative all about raising money throughout the paintball world for 5 regional children's charities: Chase, Wishes 4 Kids, Latch, Candlelighters, and National Deaf Children's Society. Website – www.paintballers4kids.com