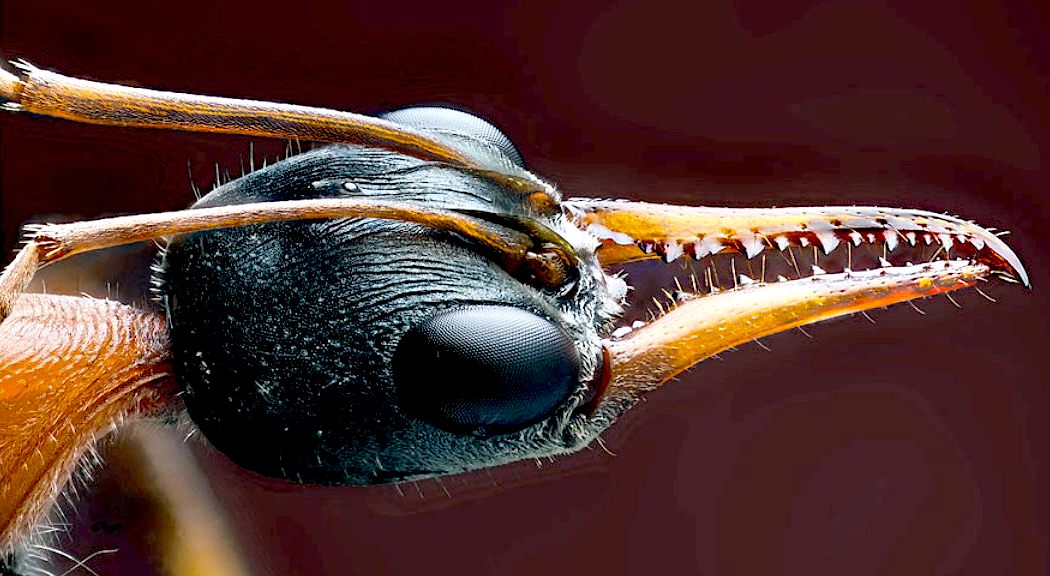 COMMAND and CONTROL - A robot is only as good as the operator, or programmer, or both. Even when under manual control, Dino has a number of autonomous functions to augment operator commands.
Where you may have an onboard computer to control many of the autonomous functions of your DinoBot, there will be times when you will want to take it through its paces manually, such as during paintball wargaming, or for special events.
There are now some fantastic radio control sets that are used to remotely pilot model aircraft, boats and cars, that are relatively cheap to buy and are still packed with features. The FlySky and Turnigy 10 channel units are good examples of sets that cost less than half that of some more established brands, but still perform comparably.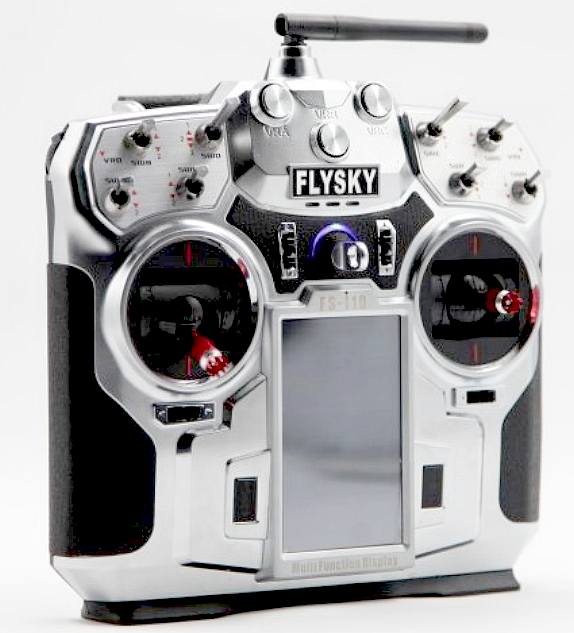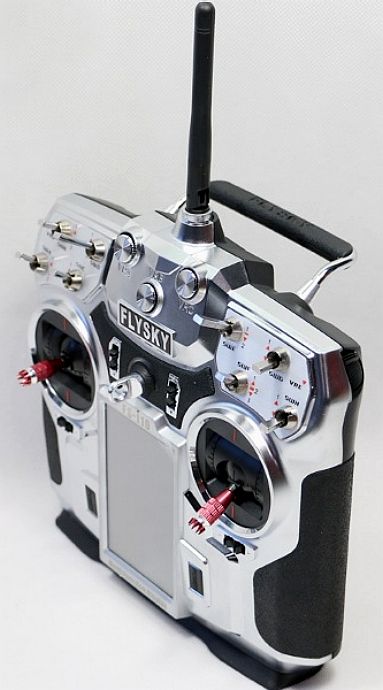 TRANSMITTER - Not a bad looking handset, it looks solid enough and the reviews tell that the joysticks are smooth.
ABOUT REMOTE CONTROL
We are all familiar with infrared remotes that can operate TVs and videos only over quite short distances. The infrared LED is quite small and low-powered and the receiver on the TV or video is also small. This is why you have to point the remote directly at the appliance you're trying to control.
Some remotes are more tolerant and it is sometimes possible to bounce the infrared beam off a wall, mirror, or picture and still change channel. Infrared remotes are not good for controlling things over distances greater than a few meters (feet); the infrared energy is too easily soaked up and dissipated along its journey.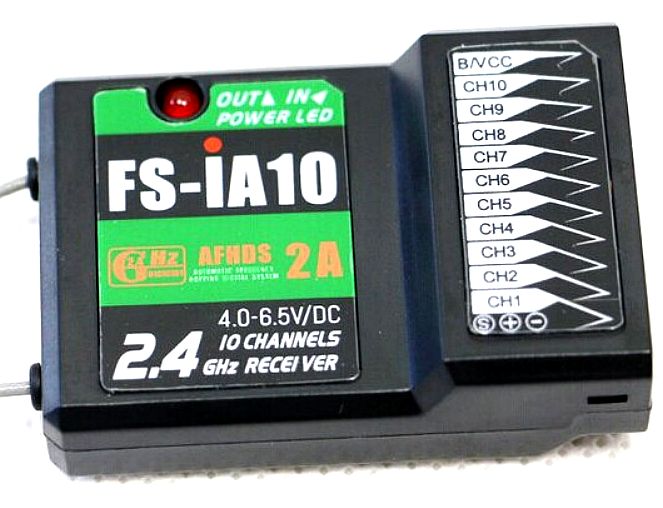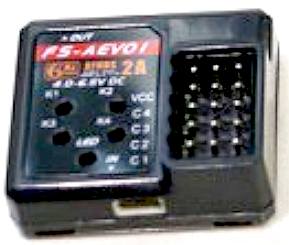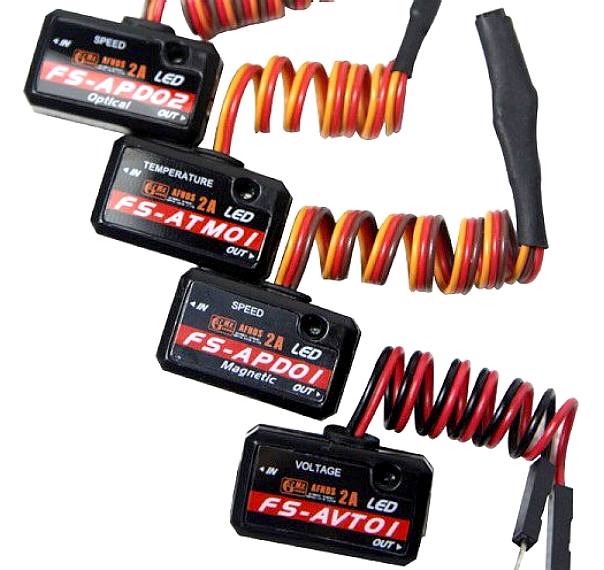 RX and TELEMETRY - This is the receiver and telemetry accessories.
RADIO CONTROL

To control things over greater distances, you need to use a different kind of system called radio control. You operate radio-controlled cars, trucks, boats, airplanes, and robots using a handheld radio transmitter box that sends signals from an antenna on the top to a matching antenna on whatever you're interested in controlling. Radio signals can travel much further than infrared ones without interference, especially if the transmitters and antennas are large and powerful. A R/C pilot controls the model he is operating by a radio link, which means by using electromagnetic radiation.
There are two main types of radio control known as single channel and multi-channel.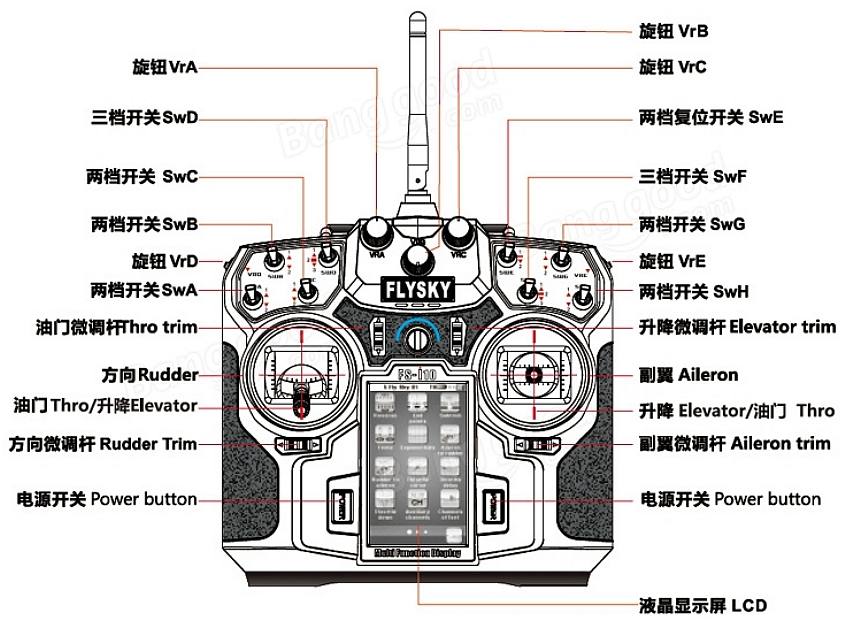 SINGLE CHANNEL
Single-channel radio control is effectively an on-off switch operated at a distance by radio wave. So, to give a very trivial example, you could use a single-channel control to switch a lamp on or off at the bottom of your garden. The sender unit would consist of a low-powered radio transmitter, while the lamp would need a radio receiver and a relay (to convert the low-powered, incoming radio signal into a higher-powered electric current big enough to operate the lamp). Single-channel radio control can only switch things completely on or completely off; it can't turn them up or down by degrees.
MULTI CHANNEL
Multi-channel radio control is used to transmit more complex and useful signals to a piece of remote equipment—for example, to make a radio-controlled car speed up, slow down, or steer from side to side. Instead of just sending a basic on/off signal, it transmits a series of coded analog or digital pulses that are decoded by the receiver and used to produce specific actions. For example, turning a steering wheel on a radio-control transmitter will send a series of pulses that make an electric motor rotate by a corresponding amount to steer a radio-controlled car one way or the other. Motors that work this way are known as servo motors. Unlike normal electric motors, which rotate an arbritary number of times according to how long they receive an electric current, servo motors are much more controllable and have built-in electronic feedback mechanisms (based on potentiometers - similar to variable resistors), which enable you to make them rotate by reasonably precise amounts.
CRYSTALS
A typical RC Transmitter has about 4 to 6 channels with at least 4 of them being proportional, which means the controlled surfaces or devices will move proportionally to the movements of the control sticks.

Additional channels may function only in "on-off" manner like a switch, and are usually used to actuate retractable landing gears, airbrakes, lamps, etc.

In days gone by the RC Transmitter would send data to the RC Receiver by generating a modulated radio frequency carrier, while the Receiver is tuned to detect the Transmitter's carrier frequency.

The accuracy of sending and receiving frequencies are usually achieved by the use of crystals. The Receiver detects data from the modulated carrier, decodes and deliveries it to the respective Servo.

There are several Frequency Bands allocated for Radio Control depending on the country. Each Frequency Band is divided in several Channels.

In USA the Frequency Band for Model Aircraft is 72MHz, Channels 11 to 60 with 20KHz separation. And for surface models (Cars, Boats, Robots etc) is 75MHz, Channels 61 to 90.

In most European countries the Frequency Band for Model Aircraft is 35MHz, Channels 55 to 90. And for surface models is 40MHz (from 40.665 to 40.995).
SPREAD SPECTRUM
A recent technology in the R/C hobby is called "Spread Spectrum". This is a radio system that can be used without having to worry about what frequency you're on. For example, the Futaba 2.4GHz system comes with a unique, permanent ID code that is preset at the factory.

Pushing the Easy Link button locks the receiver to the transmitter using that code. It's the only code that it will recognize - and since it has over 134 million possible codes, there's no chance of a signal conflict.


Most R/C systems today use frequency modulation (FM) as it better rejects interference than the earlier amplitude modulation (AM).
FLYSKY FS-i10 2.4GHz 10 CHANNEL SET

Item Name: FS-i10 transmitter
Color: silver
Model Type: fixed wing/helicopter/glider
Channel: 10
Frequency Range: 2.4 - 2.48GHz
2.4G system: AFHDS 2
Code type: GFSK
Bandwidth: 500khz
Band: 160
RF Power: less than 20dbm
Sensibility: 1024
Low vlotage warning: less than3.7v
Data output: micro-USB PPM
Charger port: yes
Power: 3.7V 1700 mAh
Display mode: WQGA 3.55 inch TFT color screen which is 262K 240 * 400 dot matrix
LCD white back light,resistive touch screen
ANT length: 26 x 2mm( dual antenna)
Size: 190 x 95 x 255 mm
Weight: 720g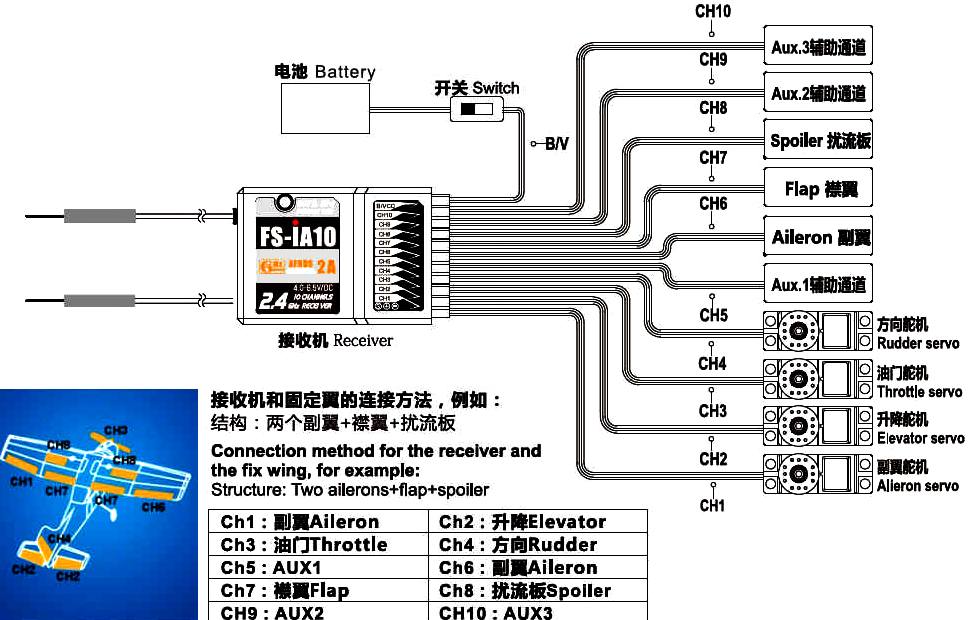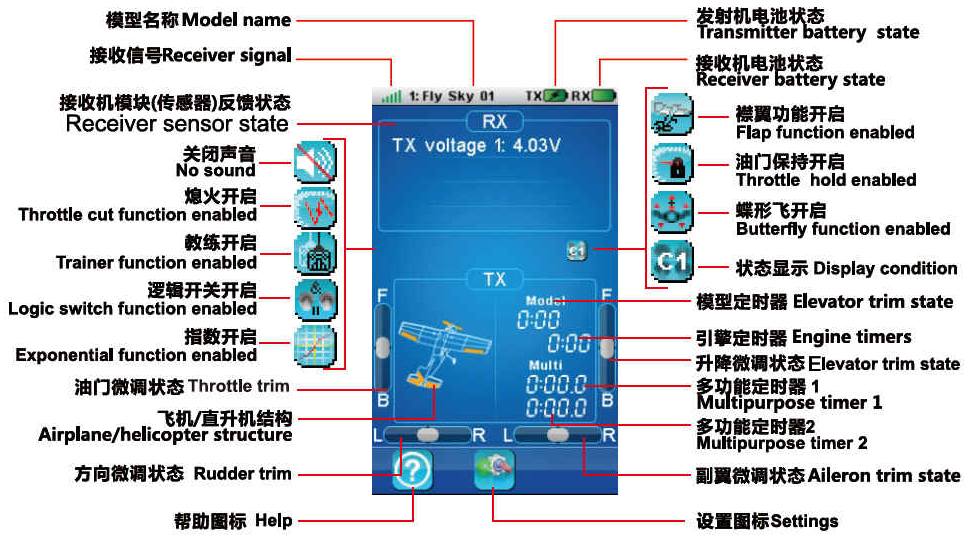 Features:

With FS-ATM01,FS-APD02,FS-AVT01,FS-APD01,FS-AEV01 module.

Lightweight ultra-thin body with 34mm grip.

With 3.55 inch WQVGA TFT 240 × 400 pixel color touch screen (touch-pen included) With 1700mAh LiPo(lithium ion) battery ,USB charging cable.

Hardware features include 8 switches & 5 knobs for optimal performance.

Uses the FLYSKY 2.4GHz AFHDS 2 (AUTOMATIC FREQUENCY HOPPING DIGITAL SYSTEM 2 / or second - generation automatic frequency hopping digital system), to achieve the role of a modern two-way communications telemetry.

Model type uses for: Drones, helicopter, airplane, and glider.

RF range: 2.4--2.4835 GHz; RF power: less than 20dBm (100mW).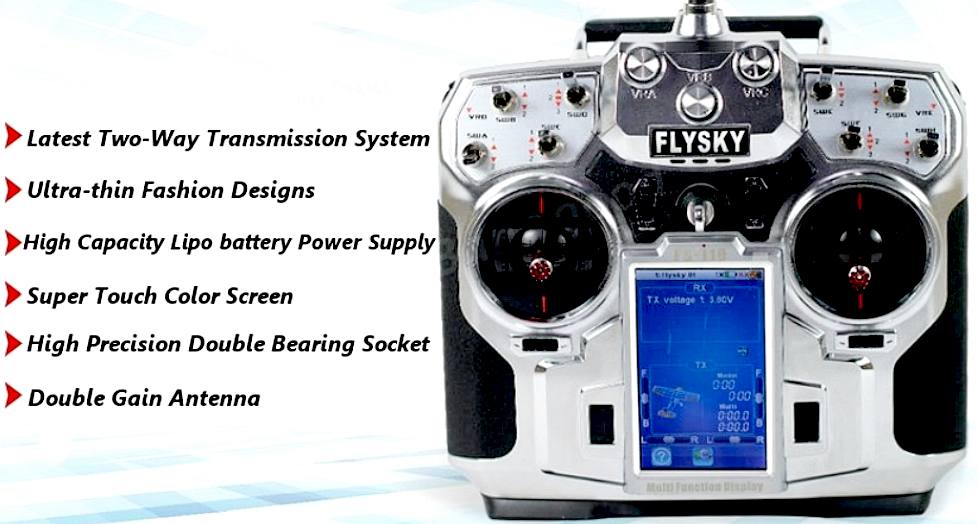 Package Included :

1 x FSi-10 2.4g 10 channel radio
1 x FSiA-10 10 channel 2.4g receiver
1 x FS-AEV01 module
1 x FS-APD01 module
1 x FS-AVT01 module
1 x FS-APD02 module
1 x FS-ATM01 module
1 x FS-B1000 1700mah Li-ion Battery
1 x USB cord
TURNIGY TGY i10
In the days of FM radios on the MHz bands, you could rush out and buy a cheap but cheerful Corona FM receiver for a third the price of a genuine Futaba or JR unit, today you're stuck with buying "the real thing" and often that means handing over very sizable sums of money.

This situation is even worse when you realize that a few of the Chinese-branded receivers these days are actually better than some offerings by the big-name brands which cost three or four times as much.

Looking for a 10 channel radio system complete with on board telemetry? The Turnigy TGY-i10 has arrived! The TGY-i10 is bursting with features which are perfect for the modeller who requires maximum control and real time telemetry.

The TGY-i10 uses 2.4GHz AFHDS 2 (automatic frequency hopping digital system 2) which spans the whole frequency band. Equipped with a high sensitivity receiver, this radio system guarantees an optimal and highly secure link between the transmitter and receiver.

The innovative design of the new TGY-i10 makes the handset extremely lightweight while the menu items and data is presented on its 3.55 inch TFT touch screen!

The TGY-i10 radio system uses high gain, high quality multi directional antennas, each transmitter has a unique ID, when binding, the receiver saves that unique ID and will only accept signals from the transmitter it is matched with, this prevents interference from any other radios and ensures the safety of your model.

The TGY-i10 radio system utilizes extremely efficient components and high speed processor chips for those complicated mixing settings. In comparison this radio system uses 1/10th of the power of a standard FM system.

Another key feature of the TGY-i10 is its telemetry capabilities, the radio system has the ability to monitor real time rpm / voltage and temperature data which provides added security when flying your models.

If you require more than 10 channels an i-Bus receiver (TGY-AEV01) is included, which will provide you with an extra 4 channels which allows an additional 16 servos to be connected.

The TGY-i10 really is one of the most intelligent and innovative radio systems available today and all at a price that will not break the bank!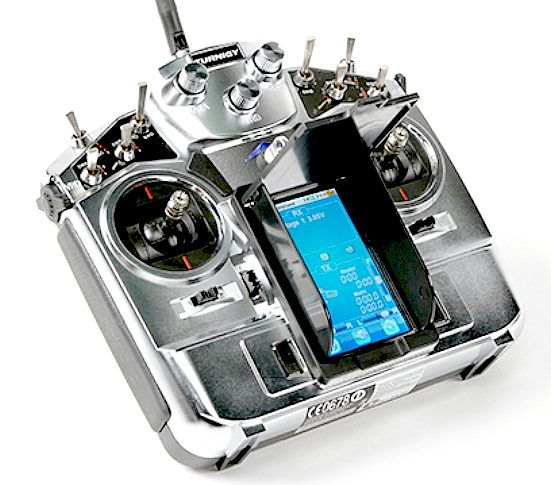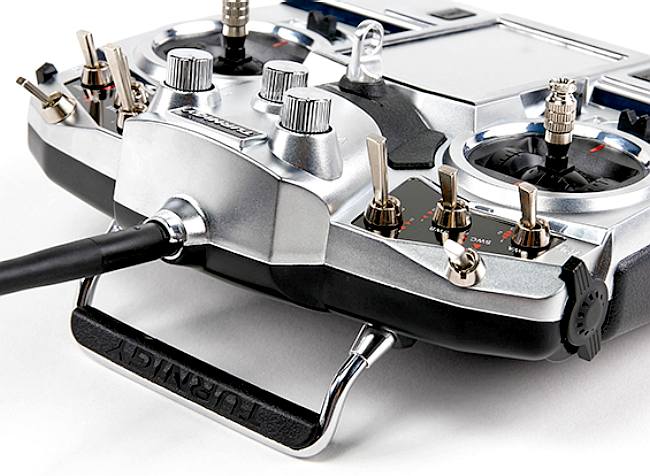 Features:

• 2.4 GHz AFHDS 2 (automatic frequency hopping digital system)
• Compatible with all TGY AFHDS receivers
• Real time telemetry monitors signal strength, Rx voltage, flight pack voltage, RPM and temperature
• Audio and visual warnings when limits are exceeded
• 3.55 inch, 240 by 400 pixels (WQVGA) colour, high contrast TFT-LCD touch screen
• Power on/off safety feature
• 3 way switch x 2, 2 way switch x 5, momentary switch x 1 and slider control switch x 2
• Easy access pop up / down VR controllers x 3
• High-precision double ball bearing gimbal and ergonomic design
• Double antenna structure for improved signal transmission
• 20 model memory including memory expansion slot
• Free software upgrades available online


Transmitter Functions Include:

General functions: Flight conditions, linear / curve mixing, functions / channel / throttle delays, channel mixing, logic switches, Aircraft type, RX setup, dual rates / expo, endpoint adjustment, channel offset, trim / subtrim, throttle down / curve / delay / reverse, system menu, model name, timers etc.
Airplane / Glider functions: Aileron / flap / spoiler, elevator to flap, butterfly, V-tail, dual elevator etc.
Helicopter functions: Throttle hold / mix / curve, pitch curve, swashplate mixing / type / ring, governor, gyroscope etc.

Specs:

Channels: 10
Model Type: Helicopter / airplane / glider
RF Range: 2.4055-2.475GHz
bandwidth: 500KHz
Band: 140
RF Power: Less than 20 dBm
2.4G system: AFHDS2A
Code type: GFSK
Low Voltage Warning: Yes (less than 3.75V)
DSC port: Yes (USB, HID)
Memory Expansion: SD card
Antenna Length: 26mmx2
Weight: 620 grams (with battery)
Battery Capacity: 3.7V (1700mAh)
Dimension: 195 x 189 x 43mm

Package Includes:

(TGY-iA10) 10 Channel 2.4GHz receiver
(TGY-BA1700) Li-ion battery 1700mah
(TGY-ATM01) Thermometer sensor
(TGY-AVT01) Voltage sensor (optical module)
(TGY-APD02) RPM sensor
(TGY-AEV01) I-bus receiver
Micro USB cable
Stylus pen
User Manual (CD)

*Firmware upgrade
Version: TGY-i10 19-3-2015

This update fixes some bugs and adds refinements to the programming. It also improves the overall stability of the system.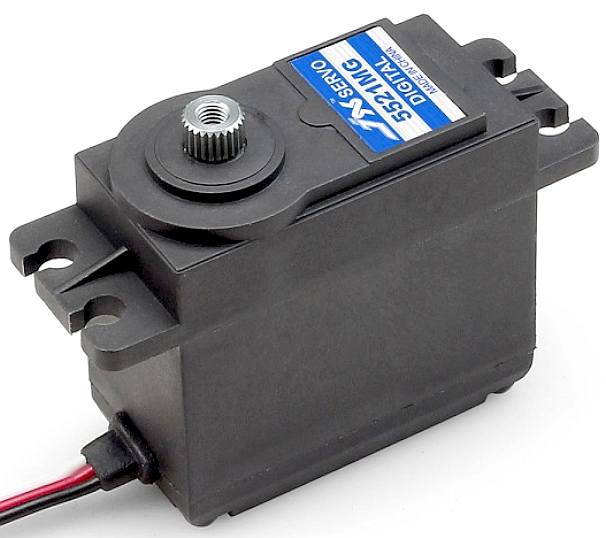 SERVOS - These are the end effectors that turn your radio signals into movement on the robot being controlled.
JX PDI 5521MG SERVO DESCRIPTION:
Item:PDI 5521MG Servo
Dead band: 2µsl
Working frequence: 1520µs / 330hz
Operating Voltage: DC4.8~6.0 V
Operating Speed (4.8V): 0.18sec/60 degrees
Operating Speed (6V): 0.16 sec/60 degrees
Stall Torque (4.8V): 17.25kg.cm (239.55oz/in)
Stall Torque (6.0V): 20.32 kg.cm (281.89 oz/in)
Dimensions: 40.5X20.2X44.2mm /1.59 X0.80X1.74 in
Weight: 55.6 g (1.96oz)
Connector Wire Length: JR 265 mm (10.43in)
Usage:For RC Airplane,Aircraft,Glider,Boat,Car

Features:

- High performance digital standard servo
- High-precision Taiwan-made aluminium gears with hard anodizing
- CNC aluminium middle Shel
- Dual ball bearings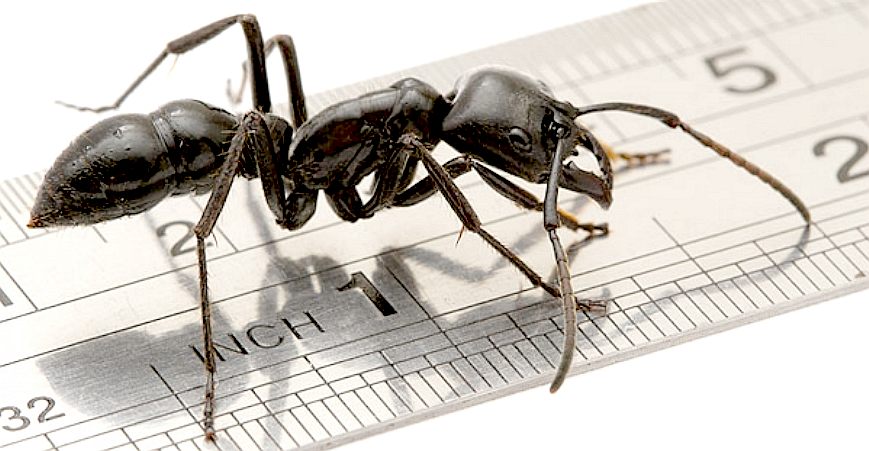 SEMI-AUTONOMOUS - Making a robot react to the environment means using sensors that can detect light, sound and heat. Touch (pressure) would also be good with an animatronic such as this. Where a robot may be driven by a human operator, it will perform better if there are automatic safeguards and actions built into the machine.
Movie idea, lurking beneath the Antarctic ice is a discovery that scientists will die for. This story is now the subject of a low budget trailer to be produced mostly in the UK. The promoters are looking for backers. The UK will contribute 20% toward production costs. Roughly 60% of a low budget film may be pre-sold as distribution rights, leaving 20% finance to source. The deal is that investors recover 120% on their project stake within 12 months of shooting, with an income stream thereafter from networks and merchandising. Producers and directors please take note that there is a significant audience for well made movies of this genre. Look at what happened when they remade Godzilla.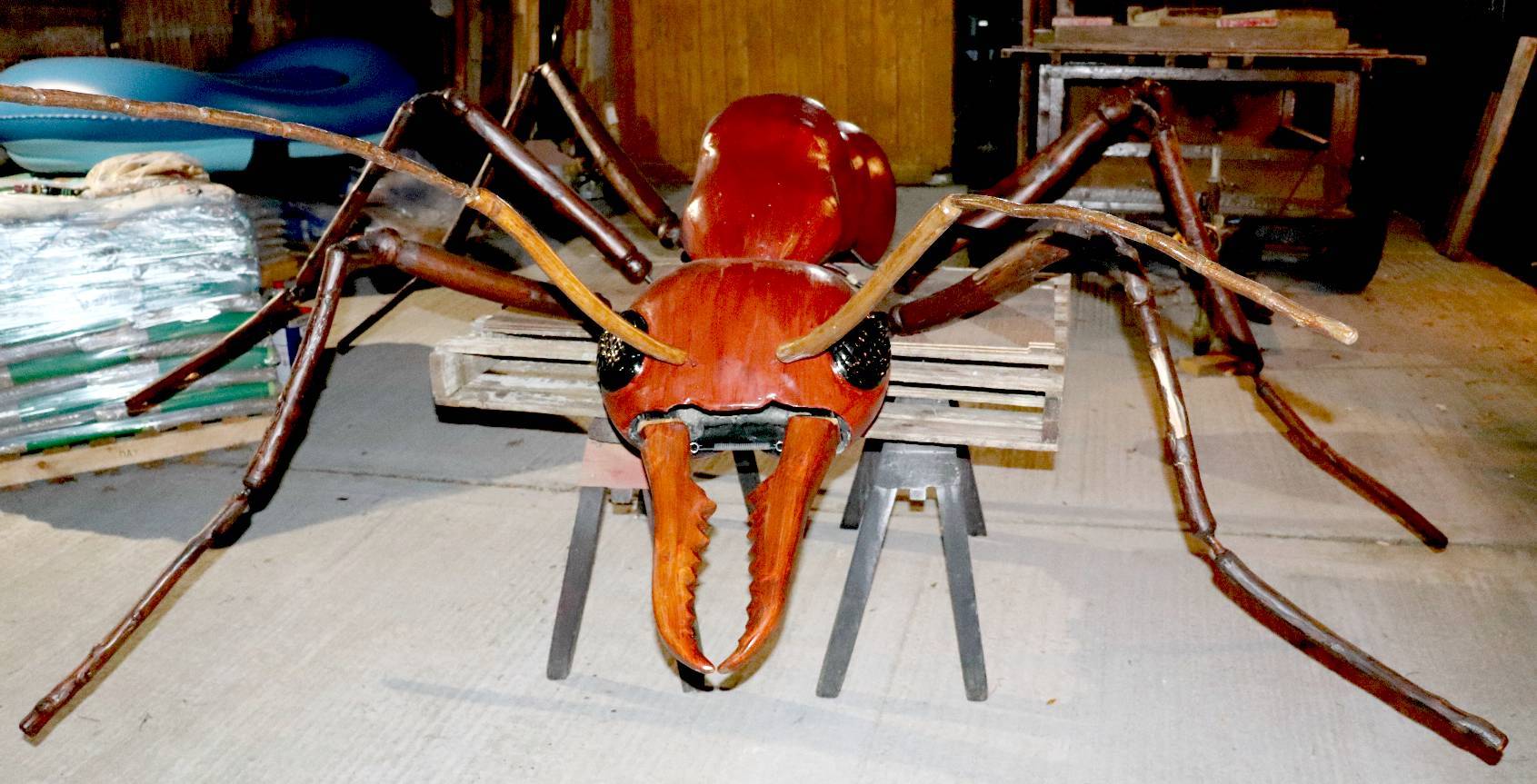 A Sectasaur™ (thawed) - now on permanent display at Herstmonceux Museum, in Sussex, England.
ANTICS - ARDUINO - ARMOUR - ARTWORK - BLACK BOX - CHAT GPT - ELECTRONICS - ENERGY - FRAME - FORMICARIUM
HEAD - INVISIBILITY - JAWS - KITS - LEGS - MECHANICS - MOTORS - MOVIE - RASPBERRY Pi - R/C DRONE - SENTRY - SOFTWARE
SIM CARDS - SMARTPOHNES - SOUND PROOFING - SPACE ROVERS - SPEED - SUSPENSION - TAIL - WEAPONS - WARGAMING