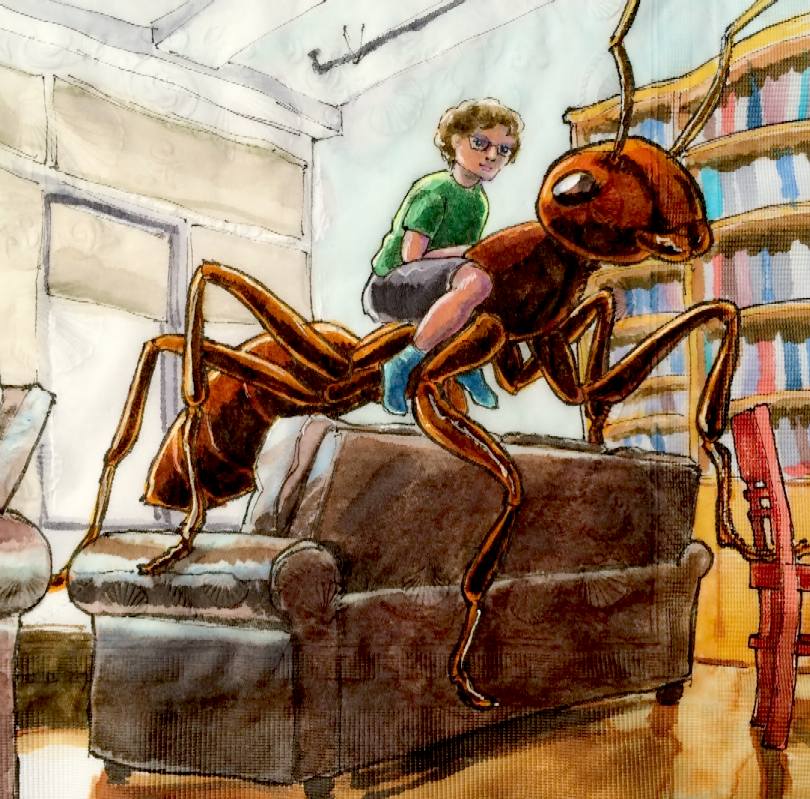 JIMMY WATSON - His mother, Marion, teases her son about his dreams to build a large robot ant with a drawing of her son riding on the ant's back. Then it comes true.

CHAPTER 17 - JIMMY UPLOADS ARTIFICIAL INTELLIGENCE AI & GPS
Not entirely realising the full implications, because nobody can predict the future, Jimmy downloads and installs an Artificial Intelligence (AI) algorithm based on a modified version of Chat GPT, Google's Bard, alongside a Global Positioning System (GPS). He installs a mobile phone service SIM card into the smartphone, with an unlimited download allowance, costing just £16 a month.
"Okay Anthony, just clip that chip in here." Jimmy struggled with the tiny plastic circuit board, dropping it onto the vinyl floor.
"Really, these couldn't be any more fiddly." Finally coaxing the delicate SIM card into its slot.
Another enhancement is a wildlife camera, that has the ability to capture video during the day and at night using infra-red vision capability, undetectable to humans. Jimmy could see on his laptop, what the infra red vision showed.
"Not bad. Not brilliant, but not too bad." He switched to daylight vision. "Now that is good." The robotic eyes could outperform human eyes several times over.
The consequence of these enhancements, coupled with Jimmy's programming, makes the system self-learning, and ultimately, self-aware. The potential horror of HAL, Cyberdyne Systems and I-Robot are invoked, should Anthony Maximus Antonious decide that humans are expendable. All these scenarios, Jimmy rehearsed many times as he was writing his code. Making sure, insofar as is humanly possible, that he'd built in sufficient safeguards.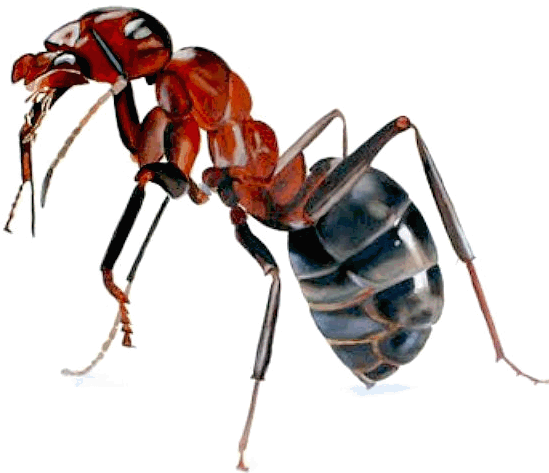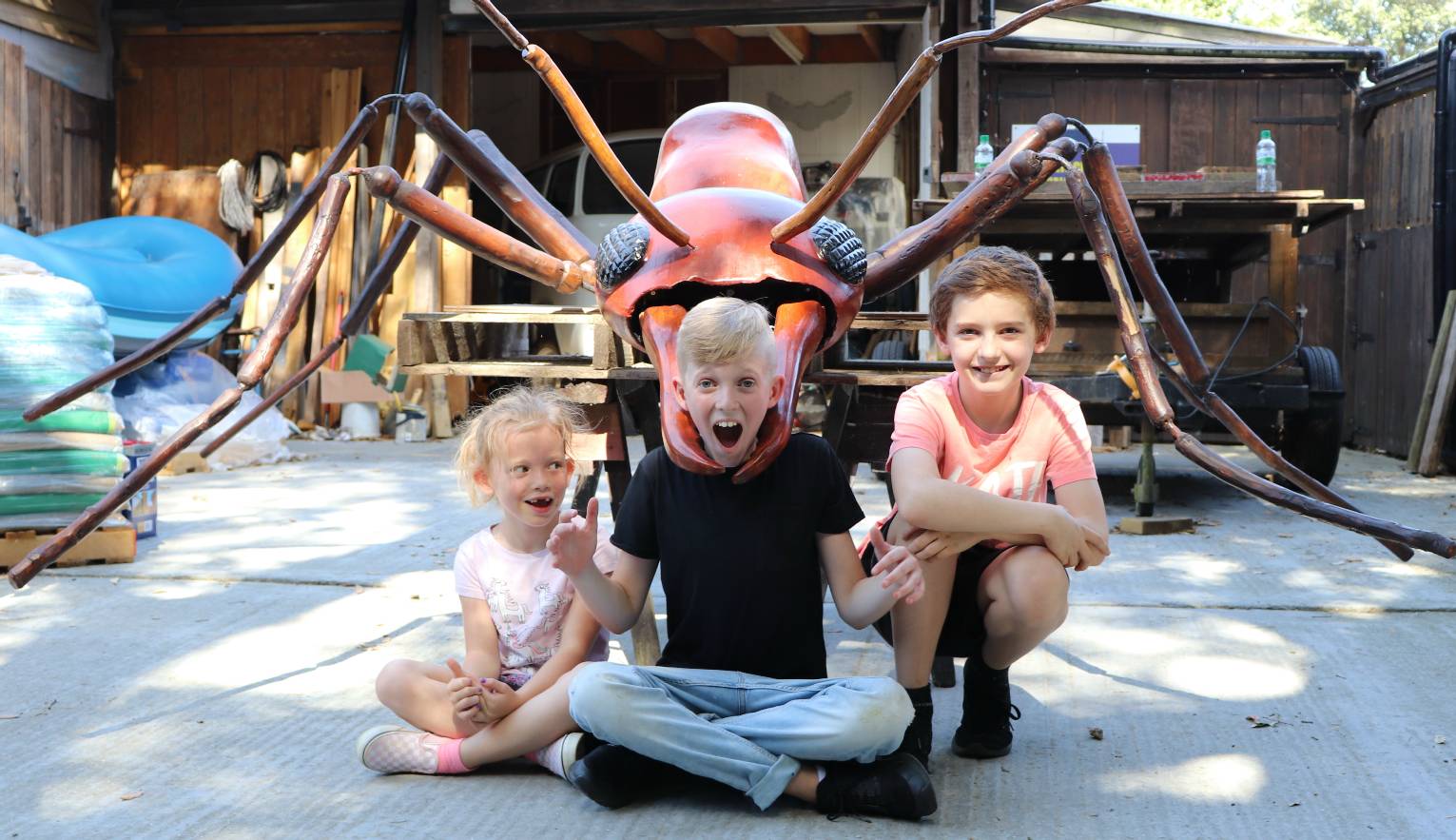 Some of Jimmy Watson's friends, with the Magic Dinobot

| | |
| --- | --- |
| | Dreaming about a robot hexapod, Christmas wish |
| | Marion finds Jimmy's moneybox |
| | More money in the moneybox, than expected |
| | Johnny Baxter's (The Johnson) detention, King Geek and the Geeklets |
| | Jimmy saves hard for nine months, while programming @ school |
| | Mum and Dad approve of Jimmy ordering his robot parts |
| | Dad builds Jimmy a shed for a workshop |
| | Dad's idea for Chameleon camouflage, invisibility cloak |
| | Jimmy begins assembling the Dinobot |
| | Dad buys Jimmy a welder, and teaches him how to use it |
| | Jimmy installs the electric drive motors |
| | The copper cable wiring challenge |
| | Raspberry Pi, Arduino and smart phone computer micro processors |
| | Coding software extravaganza |
| | It moves, the Military review security with the PM & Buckingham Palace |
| | Johnny breaks into Jimmy's shed with a thug, and gets tazed |
| | Jimmy uploads AI, GPS and other enhancements |
| | Father Christmas and the elves in the North Pole |
| | Christmas Eve, Jimmy retires exhausted |
| | Jimmy dreams of Santa Claus and his Dinobot coming to life |
| | Christmas Day, Where is the Dinobot? |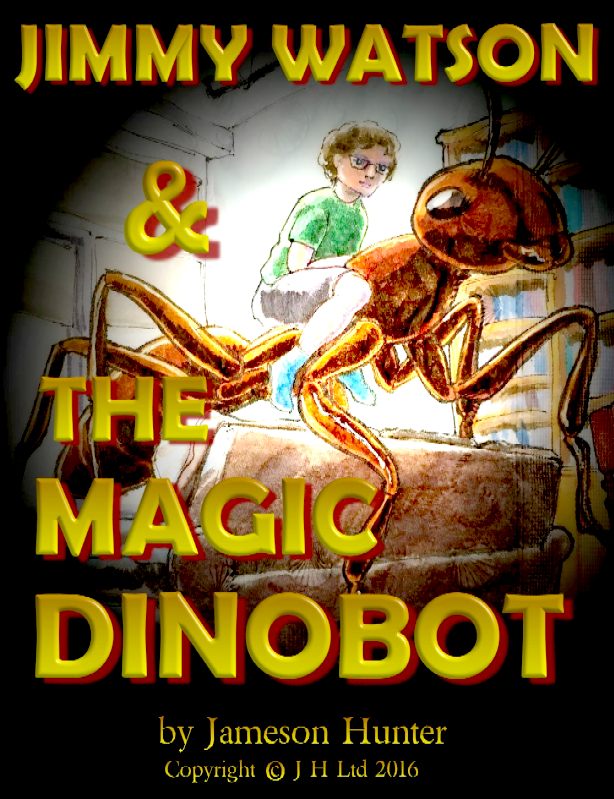 THE MAGIC DINOBOT - From Jameson Hunter, an original TV series idea, germinated in 2016. Jimmy dreams of building a giant robot ant as a special project, then one day his dreams come true when the robot he has built is transformed into a living, breathing, companion. NOTE: This story is Copyright © Jameson Hunter Ltd, March 30 2016. All rights reserved. You will need permission from the author to reproduce the book cover on the right or any part of the story published on this page.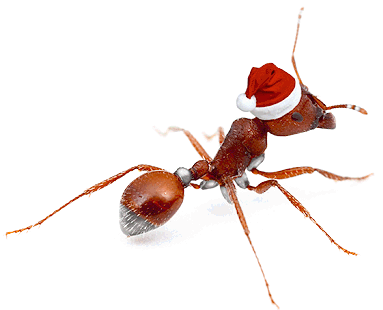 ANTICS - ARDUINO - ARMOUR - ARTWORK - BLACK BOX - ELECTRONICS - ENERGY - FRAME - FORMICARIUM
HEAD - JAWS - KITS - LEGS - MECHANICS - MOTORS - MOVIE - RASPBERRY Pi - R/C DRONE - SENTRY
SOFTWARE - SOUND PROOFING - SPACE ROVERS - SPEED - SUSPENSION - TAIL - WEAPONS - WARGAMING