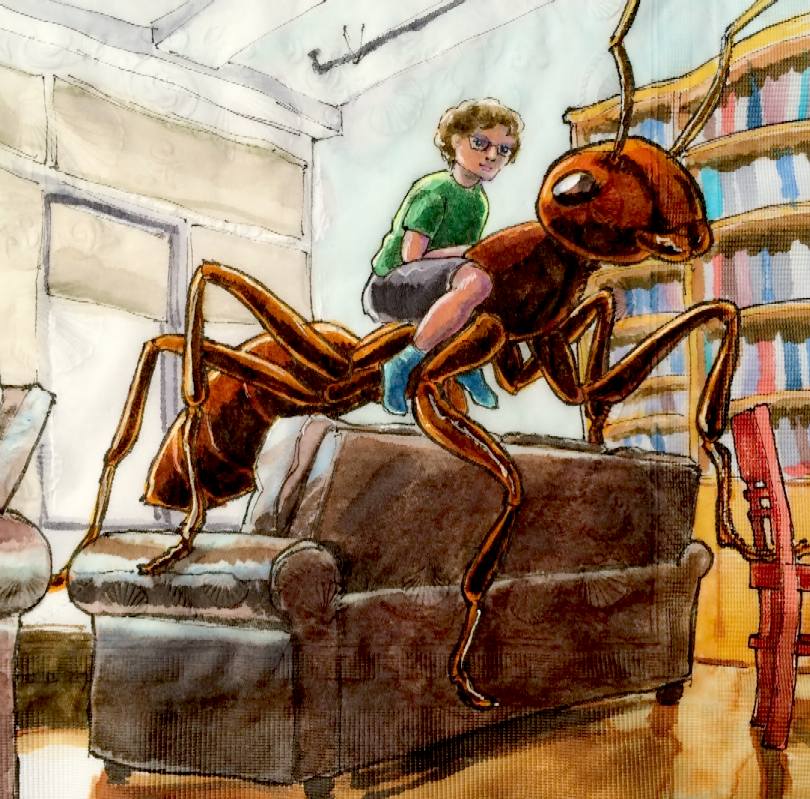 JIMMY WATSON - His mother, Marion, teases her son about his dreams to build a large robot ant with a drawing of her son riding on the ant's back. Then it comes true.

CHAPTER 7 - DAD BUILDS JIMMY A SHED WORKSHOP IN THE BACK GARDEN
One day when on leave, Timothy was thinking about Jimmy's project.
"Marion?"
"Yes Timothy." Marion knew that tone of voice, and braced herself.
"I've been thinking on Jimmy's project."
Oh, no. Marion thought for a minute, that her husband might have changed his mind. "Yes darling."
"That robot is going to be enormous."
It did not sound good. Tim had changed his mind. "Uh, huh."
"Where is he going to work on it. It will be way to big for his bedroom, even partially assembled."
"Uh, huh."
"Yes, and too big for the garage."
"Oh." Marion had not though of that.
"Yes." Tim could see the sudden look of shock on Marion's face. Even trying to contain it.
There was a long silence. Marion knew it better not to say anything. Tim was also looking for any hint from Marion. A few minutes extremely awkward silence passed. Marion really wanted Jimmy to build his dream machine. But, needed her husband's full support. She did not want there to be any reservations.
Marion moved over to the kettle and switched it on. She reached for a couple of mugs.
Tim watched nervously, wondering how to break the ice.
"Would you like a cup of tea, or coffee darling."
"I could murder an Earl Grey, thank you sweetie." That was the sign that Tim needed. It signaled that his wife was open to suggestions. He loved her for those pointers.
Marion put a teabag in Tim's cup. She needed a good strong coffee.
"So, I was wondering how you might feel if I, we, built a shed in the back garden?"
"For Jimmy?"
"Yes. What do you think? It's only an idea."
"It's an exquisite idea Timothy. I thought you might be having second thoughts." Marion loved Tim for supporting their son so.
"Second thoughts. Are you crazy. It's Jimmy's best idea to date." The two embraced. Marion with a tear in the corners of her eyes. Tim with an expression of relief. He did not want to ruin Marion's garden, if she didn't cotton to the notion.
Upstairs, Jimmy was fast asleep, unaware of the big leg up, that decision just made in the kitchen would mean for him. Jimmy was utterly exhausted, and had a paper round to complete in the morning, before school.
As an artist, her son called on Marion, for painting and crafting tips. She had been rather concerned at the size of the robot her son was building. But, they both agreed, that if he got that giant hexapod working, it would be a minor miracle.
"So, where can I put the shed?"
"At the bottom of the garden, on the left. Perhaps?"
"Over your vegetable patch?"
"Yes dear."
Tim though about that for a moment, sipping his Earl Grey tea. "How big do you think. Eight feet by twelve?"
"Goodness, no. No way will that be big enough. I'd think, twelve by twenty feet, at least."
"Really, that big. You don't mind?"
"Darling, this project is really important to Jimmy, and so to us all as a family. Build, or order a shed, as big as you can fit into the garden. Really, I don't mind. I'd prefer it, actually. I can use some of it as a studio. If Jimmy doesn't mind. If that makes you feel better. Make it a wooden one."
Marion smiled, as she explored the creases in Tim's furrowed brow. He looked back at Marion, and they both erupted into spontaneous laughter.
"Shush. Be quiet, Jimmy is sleeping," said Marion. And they both retired for the night, hand in hand, sneaking up the stairs like naughty children. Dodging the creaky floorboards.
The next day, Jimmy set off for his paper round at six o'clock. Tim was up bright and early, about an hour later, sliding out of bed silently, leaving Marion with a relaxed look on her features. He did not kiss her, for fear she'd wake.
Down in the kitchen, Tim was still in pajamas, sketching away on a big A3 size art pad, bare foot. He started to feel the cold. So put on the kettle and found a thick woolen jumper and some fur lined boots. Mmmm. 'That's better,' he thought to himself.
Pretty soon, Tim had a drawing of where the shed would go, complete with all the shelves and a collapsible worktable. He drew in the robot hexapod to scale, realising the workshop would have to be bigger than he'd at first thought. Or, Jimmy, and himself, or Marion, would not be able to walk around the machine. Marion was right as usual. The shed would have to be at least twelve, by twenty feet.
Marion woke up to find Tim missing in action. She donned her dressing gown, and nimbly trundled down the staircase to the kitchen.
There she saw Tim engrossed in producing quite an interesting drawing.
"That's nice dear. Nice and spacious. Is that the robot to scale?" Marion brushed past Tim, kissing him on the head.
"Tea for me too, I think." Tim looked up and blew his wife a kiss.
Marion sat down, moving her chair closer to Tim's, to examine the drawing.
"I love it. Can we afford it? It's like a small log cabin."
"I'm not sure yet. But, we can plan it all out, and get in some help to bolt the walls and roof together."
Mmmm. Marion went into thinking mode. "They sell sheds and install them for you."
"Yes. I've checked them out. About fifteen to twenty thousand £pounds. And still not quite sturdy, or large enough."
"Oh dear. The workshop is more than the robot."
"Many times. But, I have an idea. I could build it myself. I'm good with wood, and have a couple of chippy friends in the village. We just need the materials at the right price."
"Are you sure Tim, do you have the time."
"I'm going to make the time. If our son wants to make a go of it, we should help him."
"I'll help," said Marion. "I've done a lot of craft design in wood. How hard can it be."
Tim knew the answer to that, but stayed his tongue, so as not to quench his wife's enthusiasm. He was grateful for the offer and support.
"If you are up for this. I'll get some timber quotes."
"Darling, I am, as you say, up for it. Show me the way."
"Let's keep this a surprise."
"And pray tell, how do we achieve that?"
The workshop included a nice big padlock, so that Jimmy could work in private, secure in the knowledge, his investment was protected.
Jimmy was to be allowed to use his dad's welding equipment. With his father helping and supervising of course. As Jimmy did not know how to weld. Yet. They didn't teach that at school until much later. More of a technical college thing.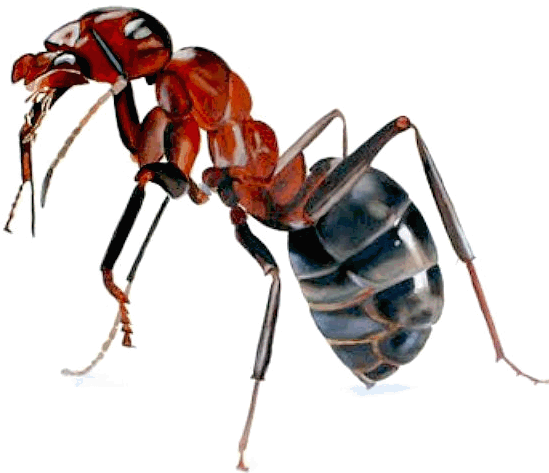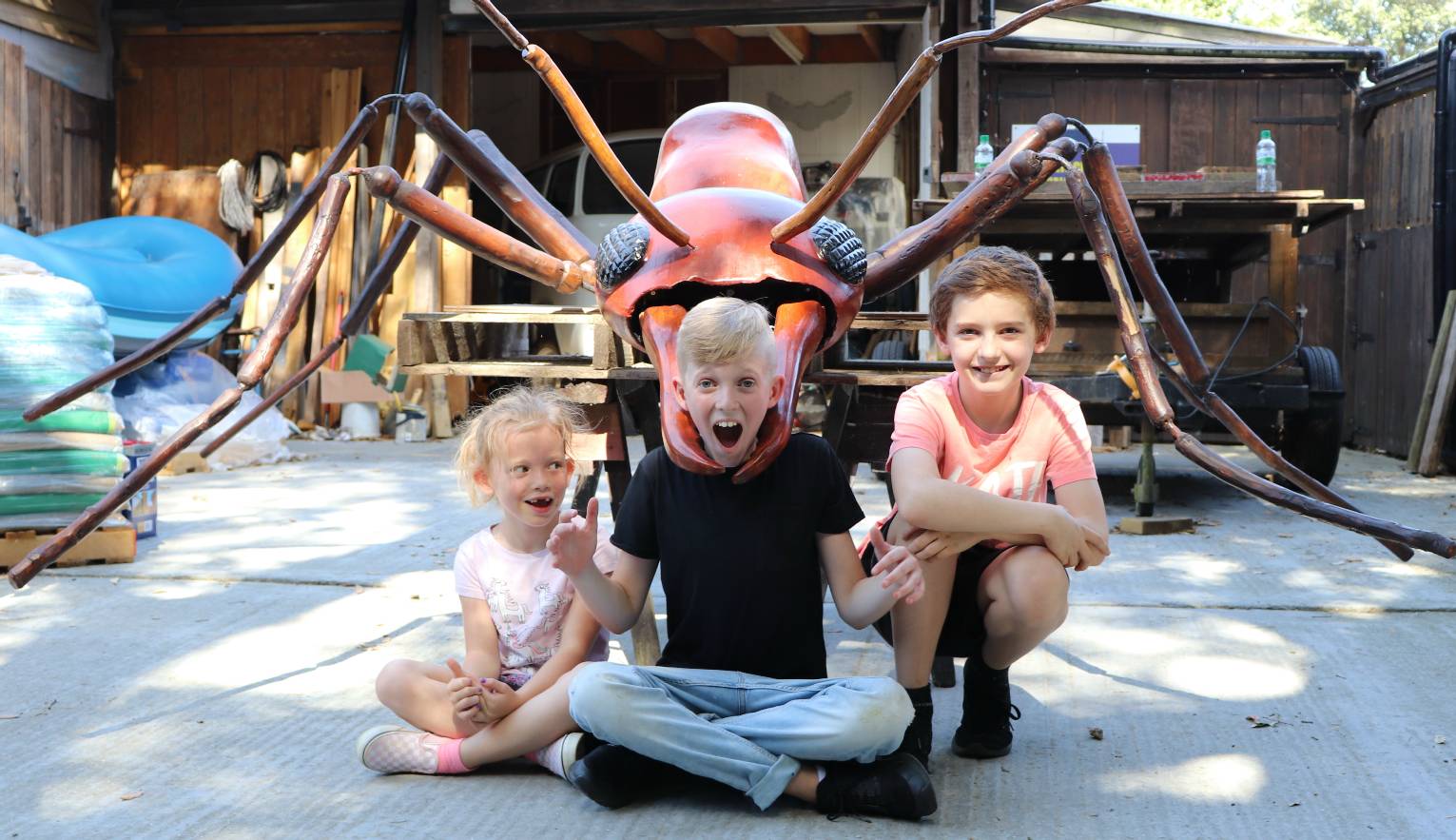 Some of Jimmy Watson's friends, with the Magic Dinobot

| | |
| --- | --- |
| | Dreaming about a robot hexapod, Christmas wish |
| | Marion finds Jimmy's moneybox |
| | More money in the moneybox, than expected |
| | Johnny Baxter's (The Johnson) detention, King Geek and the Geeklets |
| | Jimmy saves hard for nine months, while programming @ school |
| | Mum and Dad approve of Jimmy ordering his robot parts |
| | Dad builds Jimmy a shed for a workshop |
| | Dad's idea for Chameleon camouflage |
| | Jimmy begins Dinobot assembly |
| | Dad buys Jimmy a welder, and teaches him how to use it |
| | Jimmy installs the electric drive motors |
| | The copper cable wiring challenge |
| | Raspberry Pi, Arduino and smart phone computer micro processors |
| | Coding software extravaganza |
| | It moves, the Military review security with the PM & Buckingham Palace |
| | Johnny breaks into Jimmy's shed with a thug, and gets tazed |
| | Jimmy uploads AI, GPS and other enhancements |
| | Father Christmas and the elves in the North Pole |
| | Christmas Eve, Jimmy retires exhausted |
| | Jimmy dreams of Santa Claus and his Dinobot coming to life |
| | Christmas Day, Where is the Dinobot? |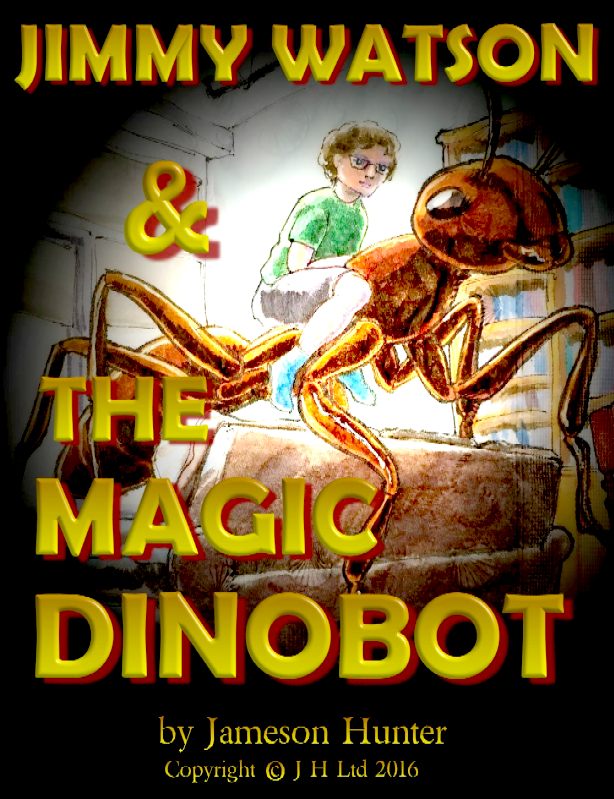 THE MAGIC DINOBOT - From Jameson Hunter, an original TV series idea, germinated in 2016. Jimmy dreams of building a giant robot ant as a special project, then one day his dreams come true when the robot he has built is transformed into a living, breathing, companion. NOTE: This story is Copyright © Jameson Hunter Ltd, March 30 2016. All rights reserved. You will need permission from the author to reproduce the book cover on the right or any part of the story published on this page.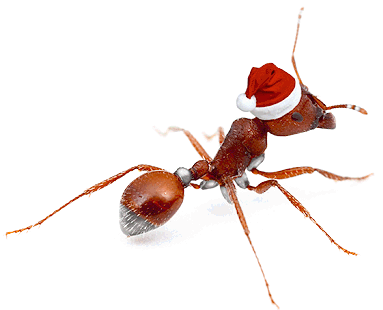 ANTICS - ARDUINO - ARMOUR - ARTWORK - BLACK BOX - ELECTRONICS - ENERGY - FRAME - FORMICARIUM
HEAD - JAWS - KITS - LEGS - MECHANICS - MOTORS - MOVIE - RASPBERRY Pi - R/C DRONE - SENTRY
SOFTWARE - SOUND PROOFING - SPACE ROVERS - SPEED - SUSPENSION - TAIL - WEAPONS - WARGAMING