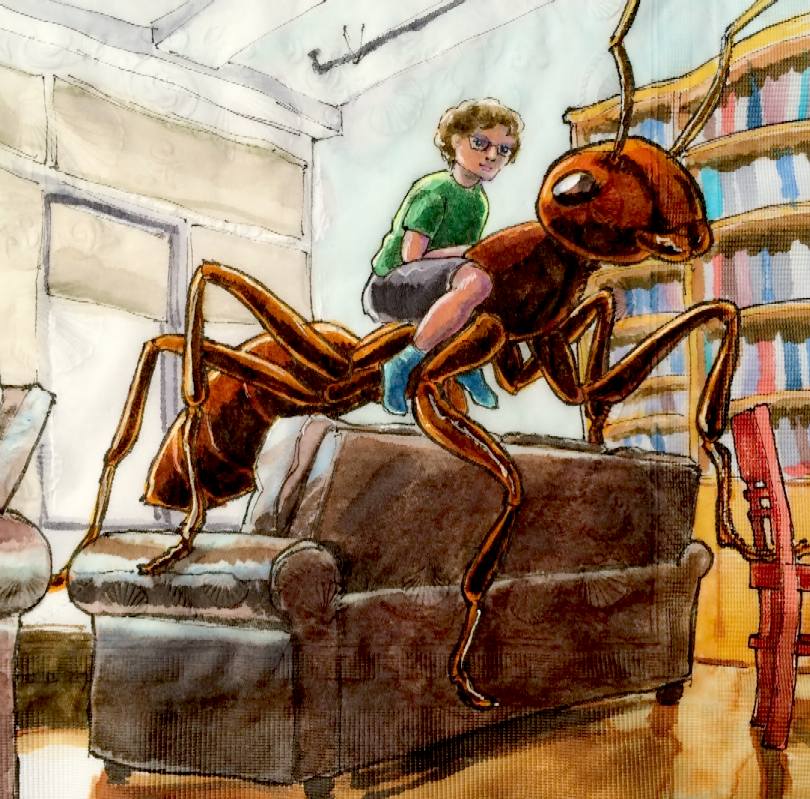 JIMMY WATSON - His mother, Marion, teases her son about his dreams to build a large robot ant with a drawing of her son riding on the ant's back. Then it comes true.

CHAPTER 21 - CHRISTMAS DAY, BUT WHERE IS THE DINOBOT
The DinoBot, watched Jimmy close up shop, and stagger out of the door. The padlock clasp was clicked to lock.
Overnight, in standby mode, Anthony was able to access the internet using a self learning algorithm Jimmy had written, including many of the latest AI programs, such as ChatGPT from openAI.
Quite soon, Anthony had enough information stored in his data banks to be able to make informed decisions. Deciding for himself that he should be invisible when in standby mode.
The following morning, Christmas Day, Marion and Tim enjoyed a special spiced latte. It was Marion's favourite warming, drink. That kick started her thinking, for slumber state. Tim was not quite so keen on this particular beverage. He preferred a nice cup of Earl Grey as his get started drink. But, it was Christmas.
Charged with sugar and caffeine, Tim decided to check on the DinoBot.
Tim waded through a layer of snow that had fallen during the night, and unlocked Jimmy's shed to see the Dinobot, but it was not there. It had gone. Disappeared. It was missing.
Tim rushed back into the kitchen. "Marion, Marion."
"Yes darling."
"The Dinobot is not in the shed." Marion nearly dropped her mug, but caught herself, only spilling a little of her drink.
They both braved the crisp December air. Marion in slippers. The sun shining through a hedge, sparkled between a full colour spectrum and diamond white. Dazzling at times, but the rainbow effect was beautiful and distracting. Squinting, so as to see the path, they almost sprinted the path.
Sure enough, the Dinobot had disappeared. Marion was stunned. It was not in the garden. Perhaps, someone had stolen it. Tim and Marion looked at each other puzzled. They were worried.
The couple rushed back inside, Marion's slippers now sodden, and burst into Jimmy's room to wake him. Jimmy was in a deep sleep, and took some time to wake.
"Jimmy, Jimmy, wake up son." Bleary eyed, but well rested, Jimmy came to, feeling beautifully relaxed. He stretched and yawned.
"Mum, Dad, I had the strangest dream." He leapt out of bed, embracing his mother, then his father. "Happy Christmas. Happy Christmas." He had a smile from ear to ear. Jimmy had bought presents for his parents. They were under the tree in the lounge, all gorgeously wrapped. But his parents seemed preoccupied.
"Is there anything wrong. Have I done something wrong?" "It is Christmas, isn't it?"
"No Jimmy, and yes it is Christmas."
"Then what is wrong?"
Jimmy looked outside, and saw the snow. "Wow. It snowed last night, just like in my dream." He turned back to enquire as to the unusual awkwardness of his mother and father.
The silence said it all. Marion and Tim did not know where to begin.
"Well, er, Jimmy."
"Yes. Mum, Dad." Jimmy opened his palms out and raised his eyebrows.
"Well, er." Said Tim, "we cannot find Anthony."
"What," cried Jimmy," rushing out of his bedroom, down the stairs and out into the snow without any shoes or slippers. His feet were freezing, but he did not feel the cold.
He flung open the shed door, and there was Anthony. Still plugged into the mains, with a tiny blue LED lit, to signify charging was complete.
Overjoyed, Jimmy hugged the giant DinoBot. "Happy Christmas Anthony."
"Happy Christmas Jimmy," said Anthony.
Before Jimmy had time to think on Anthony's reply, his mother and father had hurried downstairs, and outside.
Imagine their confusion, when they saw the animatronic and Jimmy together.
"What the heck," said Marion. Tim's jaw had dropped open, literally.
"Well I never," said Tim, genuinely shocked.
"That was one duessey of a gag Mom. You had me going there Dad."
Tim and Marion were speechless. Jimmy rushed to hug his mother and father.
"My wish came true."
"We'd best get back inside, before you freeze Jimmy," said his mother. And they headed back up the garden path to their back door. Tim, said, "I'll close up." And he looked hard at Anthony, rubbing his eyes. Yes, the DinoBot was still there. Were his eyes playing tricks on him. He shut the door and headed inside, putting the incident behind him. For now.
Back at the North Pole, in Santa's workshop, the elves were in stitches. Father Christmas had tears of laughter running down his cheeks, into his snow white beard. Ho, ho, ho.
Great Papa elf manage a few words in between his laughter, "that was the best one yet Santa."
"Ho, ho, ho. Yes, it was good wasn't it. Ho, ho, ho. And do you know the best part?"
"No," said Great Papa elf.
Father Christmas was still laughing. "Ho, ho, ho. The best part is, that it was not me."
"What are you saying Santa?"
"I did not grant Jimmy his wish."
All the elves stopped laughing for a moment. Trying to take in this latest twist.
"But surely," Great Papa looked confused. "Surely." He was trying to work it out, but was missing something.
"Jimmy had a dream last night, that he was speaking with me here in the North Pole."
Returning to Sussex, there was a ring on the doorbell. It was a special delivery that had to be signed for. It was a telegram sent on Christmas Eve, to arrive on Christmas Day at midday. To be hand delivered to Herstmonceux, and the recipient in person.
Tim answered the door, thinking it must be carol singers or some such thing.
"Morning sir. Telegram for Jimmy Watson, from Buckingham Palace, His Majesty King Charles the third."
"Oh, I'll take it for him. I'm his father."
"Sorry sir, it must be delivered to Master Watson, in person. If he's not here, maybe you could help me to find him today."
"Really! No, he is here. I'll get him for you. Do you mind waiting for a second."
"Not at all sir, thank you."
Tim shouted to the kitchen; "Jimmy. Jimmy."
Jimmy came rushing to the sound of his father's voice, noticing the front door was open, and there was a man standing outside. Oh, no. Not more trouble.
"Yes dad."
"There's a telegram for you."
Somewhat relieved, Jimmy wondered who would be sending him a telegram. An uncle or aunt perhaps.
"For me sir."
"If you are Jimmy Watson, and you live here."
"Yes, I am Jimmy Watson."
"Would you mind telling me what project you are working on?"
"I'm building a large DinoBot. In fact, I've just completed it."
"Perfect," said the delivery man, handing him the telegram. "Thank you both, and Happy Christmas to you."
"Happy Christmas." Tim and Jimmy shouted after the disappearing figure, together, and closed the door.
....
Congratulating Jimmy on his project. But how did the King know about it?
Mum & Dad admit to putting money in Jimmy's box. "Mum, I dreamed that you and dad put money into my hidden box."
Marion and Tim laughed out loud. "You dreamed about that?"
"Yes mum, Santa showed me in a crystal ball, when I dreamed about him last night."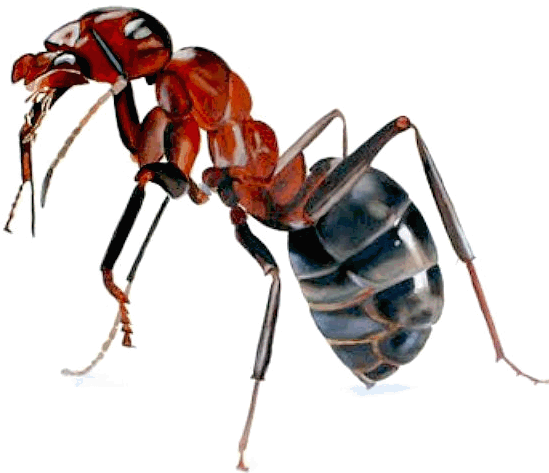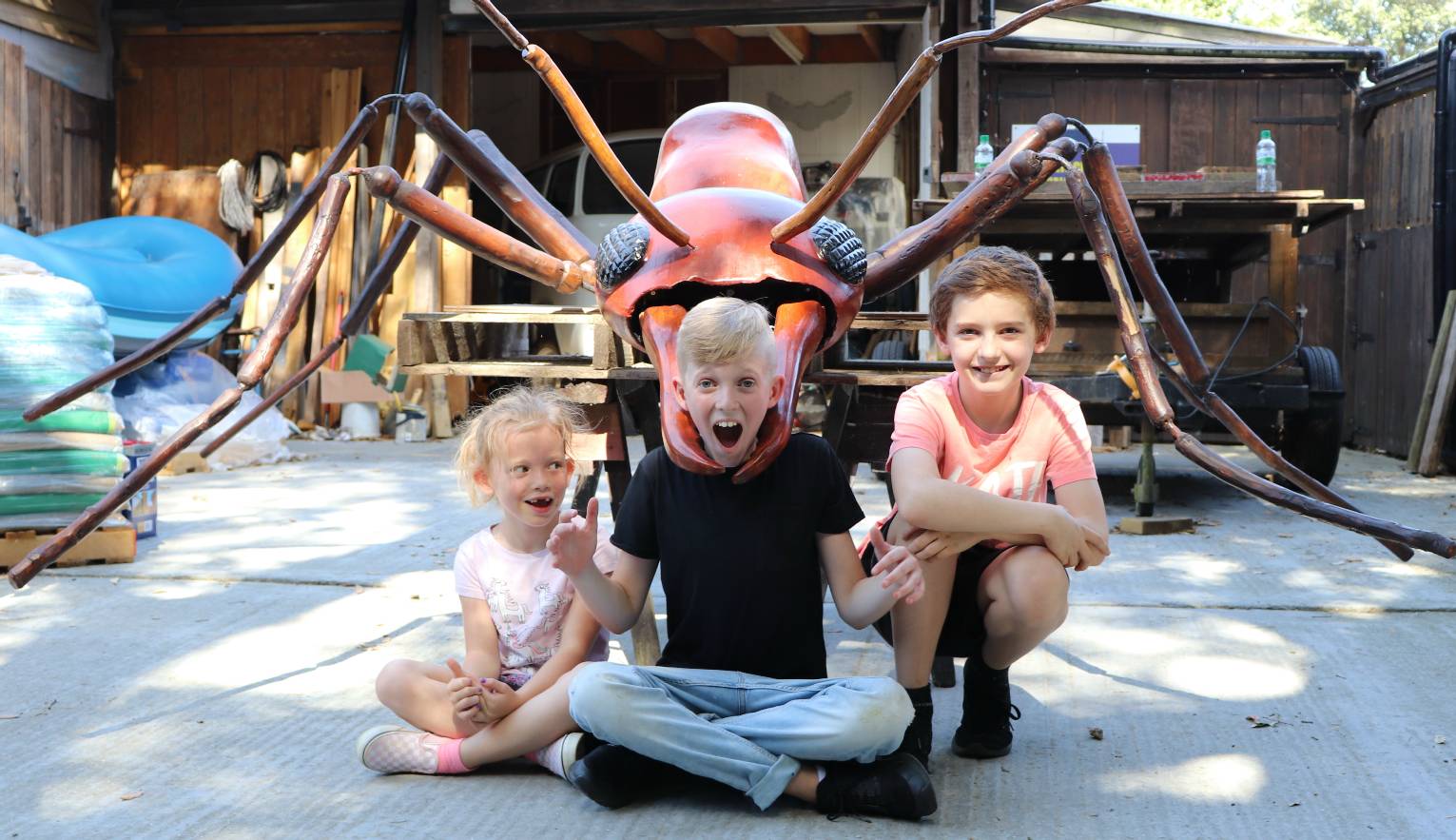 Some of Jimmy Watson's friends, with the Magic Dinobot

| | |
| --- | --- |
| | Dreaming about a robot hexapod, Christmas wish |
| | Marion finds Jimmy's moneybox |
| | More money in the moneybox, than expected |
| | Johnny Baxter's (The Johnson) detention, King Geek and the Geeklets |
| | Jimmy saves hard for nine months, while programming @ school |
| | Mum and Dad approve of Jimmy ordering his robot parts |
| | Dad builds Jimmy a shed for a workshop |
| | Dad's idea for Chameleon camouflage, invisibility cloak |
| | Jimmy begins assembling the Dinobot |
| | Dad buys Jimmy a welder, and teaches him how to use it |
| | Jimmy installs the electric drive motors |
| | The copper cable wiring challenge |
| | Raspberry Pi, Arduino and smart phone computer micro processors |
| | Coding software extravaganza |
| | It moves, the Military review security with the PM & Buckingham Palace |
| | Johnny breaks into Jimmy's shed with a thug, and gets tazed |
| | Jimmy uploads AI, GPS and other enhancements |
| | Father Christmas and the elves in the North Pole |
| | Christmas Eve, Jimmy retires exhausted |
| | Jimmy dreams of Santa Claus and his Dinobot coming to life |
| | Christmas Day, Where is the Dinobot? |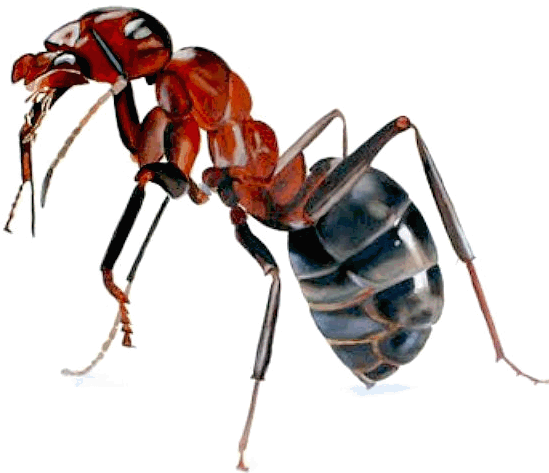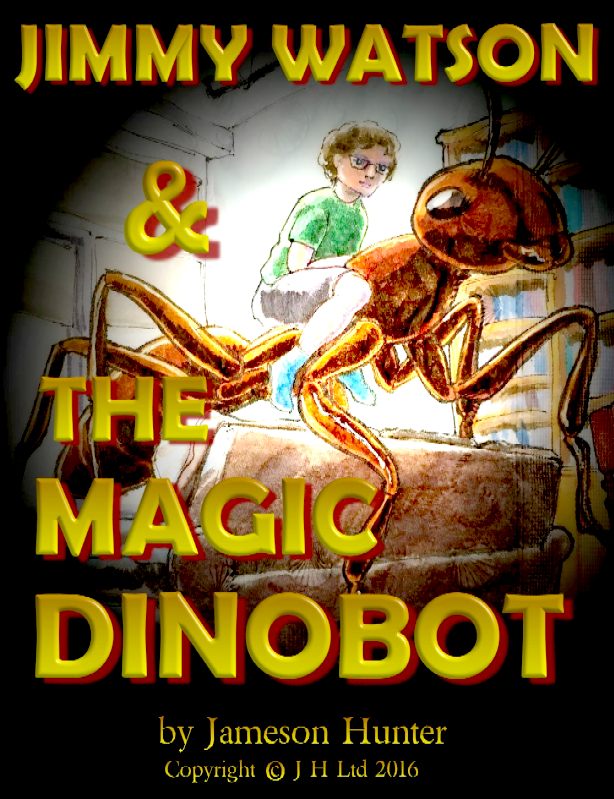 THE MAGIC DINOBOT - From Jameson Hunter, an original TV series idea, germinated in 2016. Jimmy dreams of building a giant robot ant as a special project, then one day his dreams come true when the robot he has built is transformed into a living, breathing, companion. NOTE: This story is Copyright © Jameson Hunter Ltd, March 30 2016. All rights reserved. You will need permission from the author to reproduce the book cover on the right or any part of the story published on this page.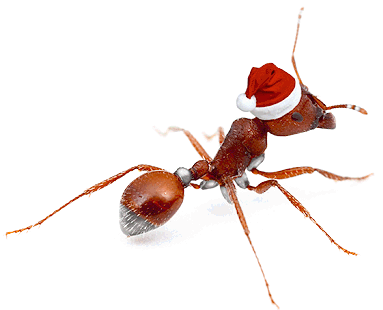 ANTICS - ARDUINO - ARMOUR - ARTWORK - BLACK BOX - ELECTRONICS - ENERGY - FRAME - FORMICARIUM
HEAD - JAWS - KITS - LEGS - MECHANICS - MOTORS - MOVIE - RASPBERRY Pi - R/C DRONE - SENTRY
SOFTWARE - SOUND PROOFING - SPACE ROVERS - SPEED - SUSPENSION - TAIL - WEAPONS - WARGAMING