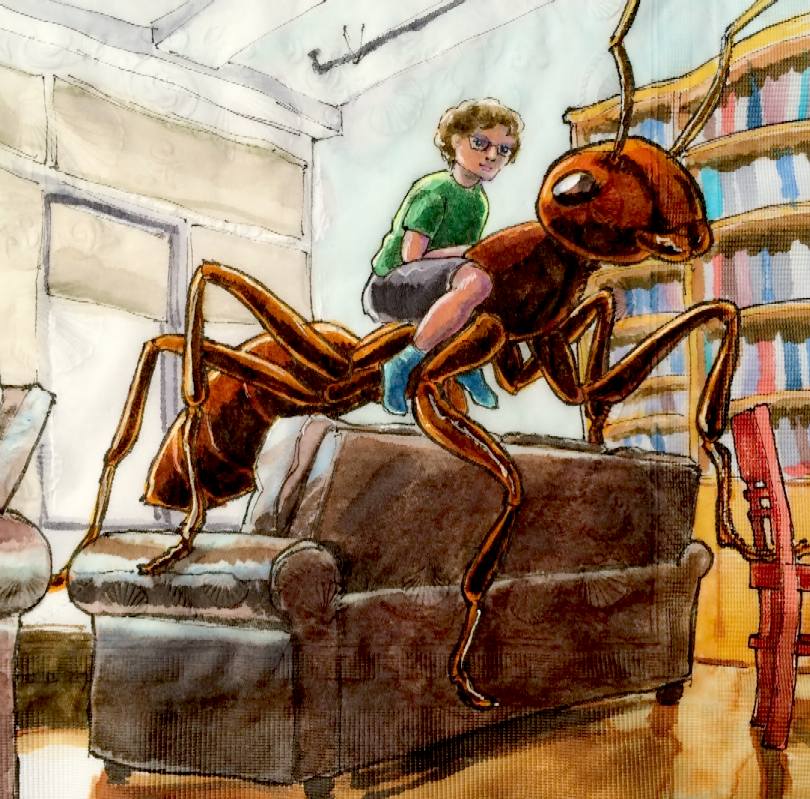 JIMMY WATSON - His mother, Marion, teases her son about his dreams to build a large robot ant with a drawing of her son riding on the ant's back. Then it comes true.

CHAPTER 8 - DAD'S IDEA FOR A CHAMELEON INVISIBILITY CLOAK
One day, Jimmy's dad had an idea that his son took a shine to. "Why not give your robot the abilities of a Chameleon."
"How do I do that Dad?"
I'm not sure son, but in the film 'Predator' and the Bond movie featuring Q's invisible Aston Martin Vanquish, I think. What was that movie?" Tim Watson paused for thought. "I remember now, it was called 'No Time To Die' starring Pierce Brosnan."
"Oh yes Dad. Good movies."
"Well," continued Tim, "the military have been developing active camouflage for tanks in the infra-red light spectrum. Maybe you can think of how to make that work in the visible spectrum?"
"How did they do it Dad?"
"Oh, no, Jimmy. They have not fully succeeded yet. It's just a great idea, they are working on. Though, I have seen some excellent demos where tanks are almost invisible to enemy targeting systems. At the moment they are not practical for smaller objects."
"Why is that Dad?"
"Well, we might need a cup of tea, if I'm going to explain that one."
"Okay Dad, I take the hint."
Jimmy put the kettle on, two mugs at the ready. They sat at the kitchen table, steam coming off their beverages. Tim took a sip.
"Mmm. You do make a good cuppa." Jimmy beamed.
"Well now, BAE Systems is an MOD contractor, making jet fighters."
"I know that Dad."
"Of course, this is your thing. So, imagine a cloaking device that makes a tank near invisible, by masking its infrared signature to enemy eyes. Imagine the advantages on the battlefield. If your enemy cannot see you using their thermal imaging systems."
Jimmy was all ears. He loved technology and this idea was something else.

"Well, British Aerospace, known as BAE Systems of course, you know that, is investing in a camouflage system called ADAPTIV." Tim and Jimmy stopped for a second to imbibe another gulp of tea.
"Why is an aircraft company designing stuff for tanks?"
"Good question Jimmy. BAE makes a whole lot of stuff, including the Astute submarine, and the Queen Elizabeth aircraft carrier - and yes fighter jets by the bucket load."
"Really?"
"Really. So, if you'll let me. I'll continue." Jimmy giggled.
"The camouflage system is a honeycomb of cells to cover most of an armoured vehicle. The cells are cooled or heated individually, like light bulbs or LEDs to make a picture, a bit like a crude TV with less pixels."
"So, it's a bit like a chameleon, the vehicle can mimic its surroundings?"
"It can copy truck shapes from a built in image bank. The vehicle can also operate as a neon sign by flashing text messages or pattern, so can be recognized by friendly forces."
"Cool." Jimmy was impressed.

"Peacekeeping operations often taking place in deserts, forests and towns in the same day. ADAPTIV shields large military vehicles from detection by mimicking the surrounding temperature. It can also make a tank simulate objects, such as a cow, car, bushes, or rocks. Simply be switching on and off the right cells."
"Okay Dad, I get it." But Tim was in full sales mode, selling the idea to Jimmy.
"Hey, let me finish son, I know a bit about this." Tim winked.

"ADAPTIV was patented in Sweden via the Swedish Defence Materiel Administration, or FMV. BAE systems commissioned FMV in Örnsköldsvik to go full-scale for land vehicles. It took three years research, and seven people, to make it work."
"But Dad, I don't have three years. It's less than three months to Christmas. And what is a patent for goodness sake. No, don't tell me, I have a vague idea."
"Don't worry son. That's for another time, when you are a bit older."


[HPK15B Helicopter]
The idea was planted, and Jimmy spent may hours in the next few weeks trying to think of a way of emulating a Chameleon, of sorts.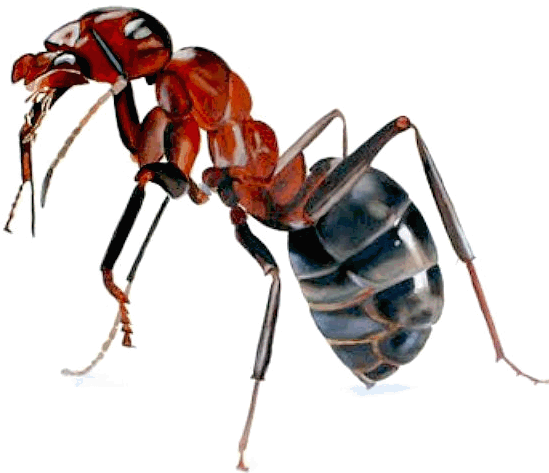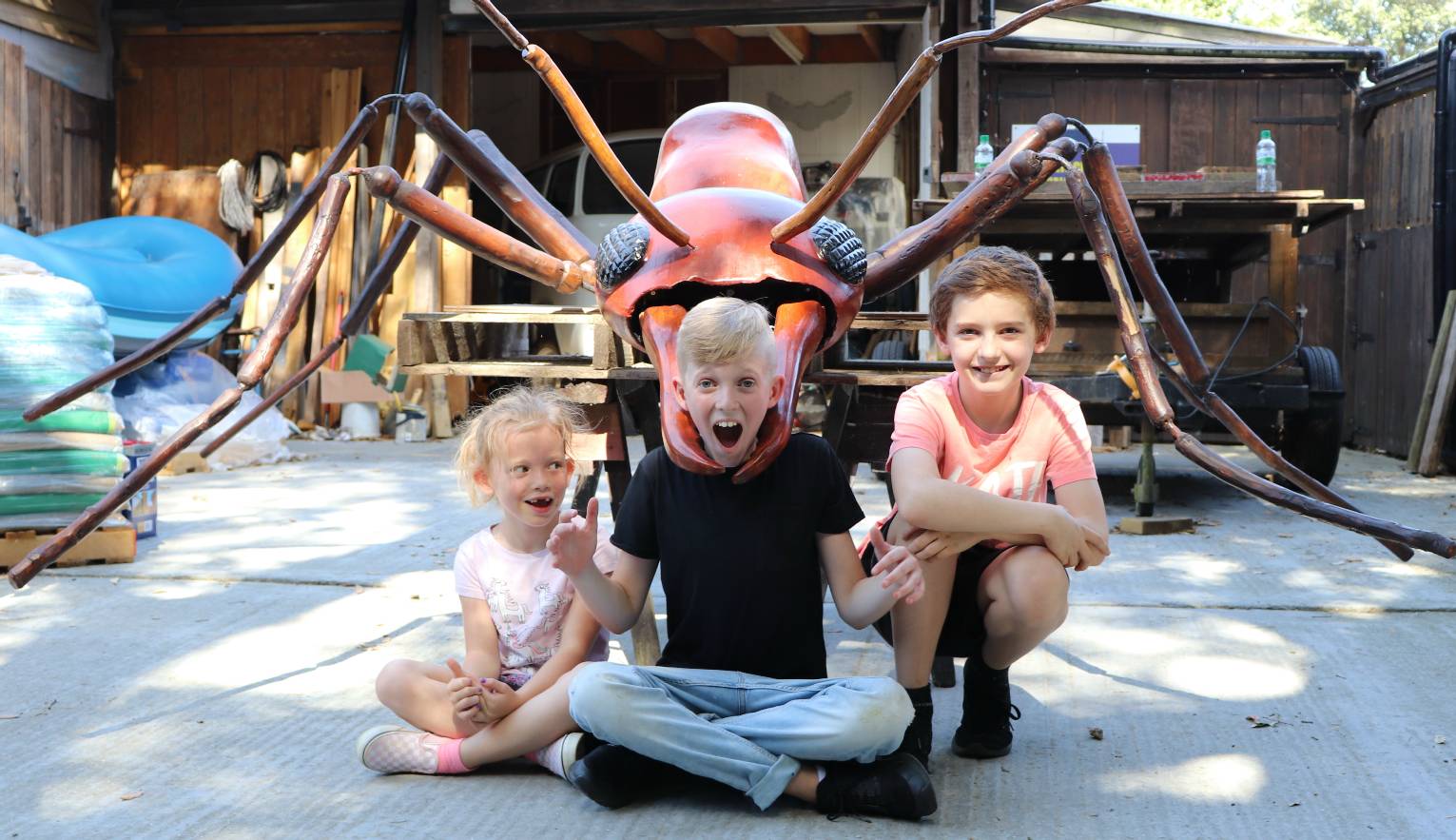 Some of Jimmy Watson's friends, with the Magic Dinobot

| | |
| --- | --- |
| | Dreaming about a robot hexapod, Christmas wish |
| | Marion finds Jimmy's moneybox |
| | More money in the moneybox, than expected |
| | Johnny Baxter's (The Johnson) detention, King Geek and the Geeklets |
| | Jimmy saves hard for nine months, while programming @ school |
| | Mum and Dad approve of Jimmy ordering his robot parts |
| | Dad builds Jimmy a shed for a workshop |
| | Dad's idea for Chameleon camouflage, invisibility cloak |
| | Jimmy begins assembling the Dinobot |
| | Dad buys Jimmy a welder, and teaches him how to use it |
| | Jimmy installs the electric drive motors |
| | The copper cable wiring challenge |
| | Raspberry Pi, Arduino and smart phone computer micro processors |
| | Coding software extravaganza |
| | It moves, the Military review security with the PM & Buckingham Palace |
| | Johnny breaks into Jimmy's shed with a thug, and gets tazed |
| | Jimmy uploads AI, GPS and other enhancements |
| | Father Christmas and the elves in the North Pole |
| | Christmas Eve, Jimmy retires exhausted |
| | Jimmy dreams of Santa Claus and his Dinobot coming to life |
| | Christmas Day, Where is the Dinobot? |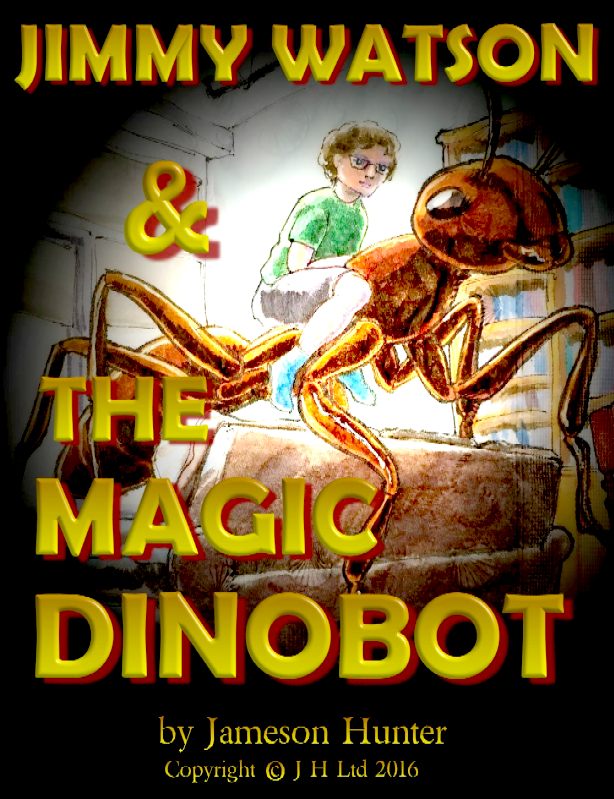 THE MAGIC DINOBOT - From Jameson Hunter, an original TV series idea, germinated in 2016. Jimmy dreams of building a giant robot ant as a special project, then one day his dreams come true when the robot he has built is transformed into a living, breathing, companion. NOTE: This story is Copyright © Jameson Hunter Ltd, March 30 2016. All rights reserved. You will need permission from the author to reproduce the book cover on the right or any part of the story published on this page.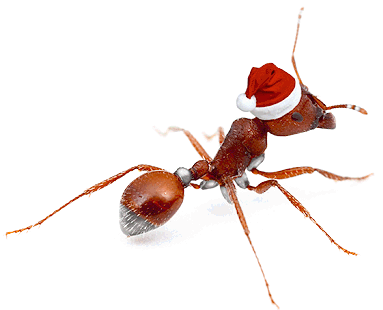 ANTICS - ARDUINO - ARMOUR - ARTWORK - BLACK BOX - ELECTRONICS - ENERGY - FRAME - FORMICARIUM
HEAD - JAWS - KITS - LEGS - MECHANICS - MOTORS - MOVIE - RASPBERRY Pi - R/C DRONE - SENTRY
SOFTWARE - SOUND PROOFING - SPACE ROVERS - SPEED - SUSPENSION - TAIL - WEAPONS - WARGAMING