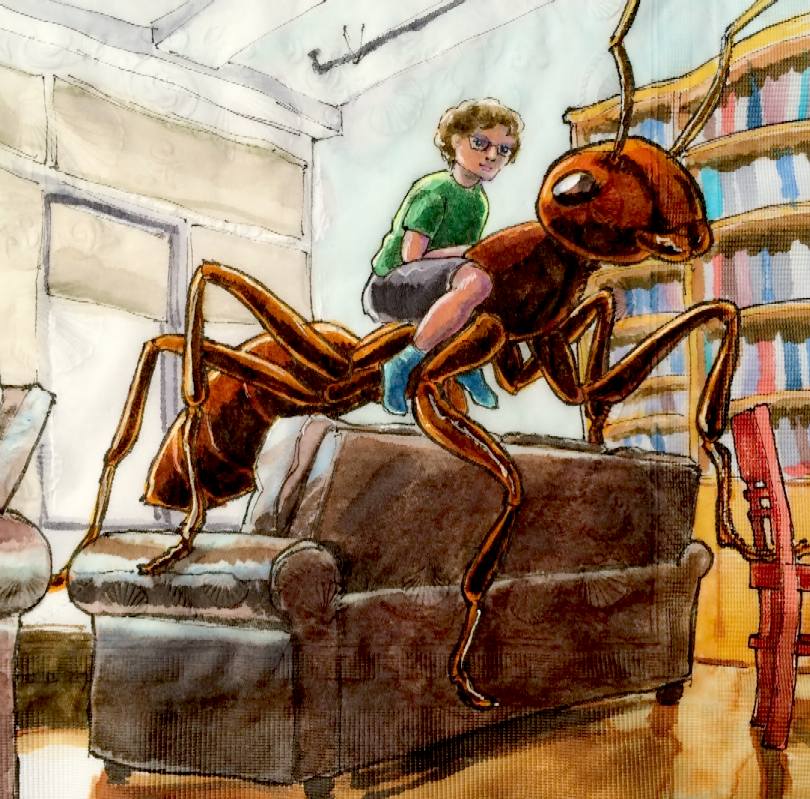 JIMMY WATSON - His mother, Marion, teases her son about his dreams to build a large robot ant with a drawing of her son riding on the ant's back. Then it comes true.

CHAPTER 4 - KING GEEK AND THE GEEKLETS, DETENTION FOR JOHNNY JOHNSON

History was a drag. Jimmy hated Monday morning and he did not like it that some of his classmates were unkind to Lydia, their teacher, even though the subject seemed like such a waste of time. Lydia was a mature lady with gray hair in a short pixie cut, as favoured by the many of the over fifties and 'M' in the Bond movies. She was always perfectly turned out, usually in a blue one-piece dress and lace blouse. They addressed her as Miss Davies.

It was unfortunate that somehow, and it may just have been a cruel rumour, the whole school knew that Lydia had survived cancer with surgery to her chest. The reason why some pupils spoke of this was because of her regimental stance. True or not, Jimmy felt she deserved more respect and should be left alone. Cancer was not something to joke about. She should be called Miss Davies, not Lydia, followed by a knowing wink. Miss Davies was kind and thoughtful and taught her subject well. Jimmy just didn't want her to share her knowledge with him all that much. He'd rather be in computer studies or physics. That did not mean he did not like her. He did.

After lunch, Jimmy got his wish: it was time for computer studies and Mr Jarvis. The class were being taught to program robotic arms, like the ones they use to make cars in big factories, only the ones they were programming were much smaller and made of plastic. The object of the lesson was to pick up a block from one position and make the robot arm put it down in another position, very basic stuff.

Having completed that task and been marked, Jimmy re-programmed his arm to perform a dance, where the plastic arm revolved, stopped to pick up the block, revolved again in reverse while swinging up and down and put the block back by throwing it in the air and and then taking a bow. The routine worked well, all except the landing from throwing the block into the air - and that was because the plastic gears and cheap motors were not precise enough to cope with such a degree of accuracy.

For this exercise the class were using a very small computer board called an Arduino. What was so exciting about the Arduino, was the huge range of accessories that you could buy for not very much money, so increasing the range of project possibilities. Lots of other boards simply plugged into the basic board.

Johnny Baxter saw Jimmy's routines and became more envious by the week. Other classmates nearly applauded but for Jimmy signaling wildly for them to be quiet. He erased the program to cover his tracks so that Mr Jarvis did not know what he'd done. Other class-mates were also showing off more complicated routines, but nothing to compare. Jimmy liked it that there was a good level of camaraderie between those who liked the subject. Johnny hated this bond and sneered at Jimmy who he called 'King Geek' and the other freestyle programmers; Geeklets. Johnny soon shortened Jimmy's nickname to 'KG,' and anyone more advanced than himself became a 'GL.'

"Let's hear it for KG and the GLs," said Johnny out loud without thinking, pulling the corners of his mouth down and his nose up to look like a pig.

"Who said that?, demanded Mr Jarvis, as he spun round to face the room, almost throwing off his heavy spectacles from the speed of the turn.

The class fell silent, trying not to laugh at the glasses now dangling to one side, which Mr Jarvis quickly straightened. Johnny looked around the room a little too earnestly, as though trying to identify the culprit, but Mr Jarvis was not that daft.

"Okay Johnson, detention for you."

"But Sir," protested Johnny.

"Alright then Johnson, name the culprit." Even Johnny would not stoop that low and Jarvis knew it. Johnny stayed silent.

Mr Jarvis grimaced. He would give Johnson marks for that.

"Right-ho then, pack away quickly."
And no sooner that was said, than the bell went off in the corridor outside.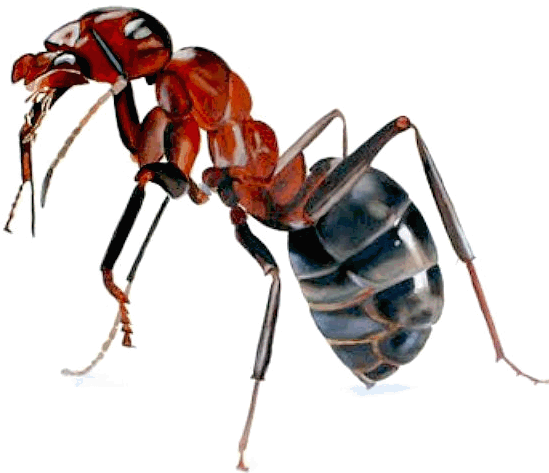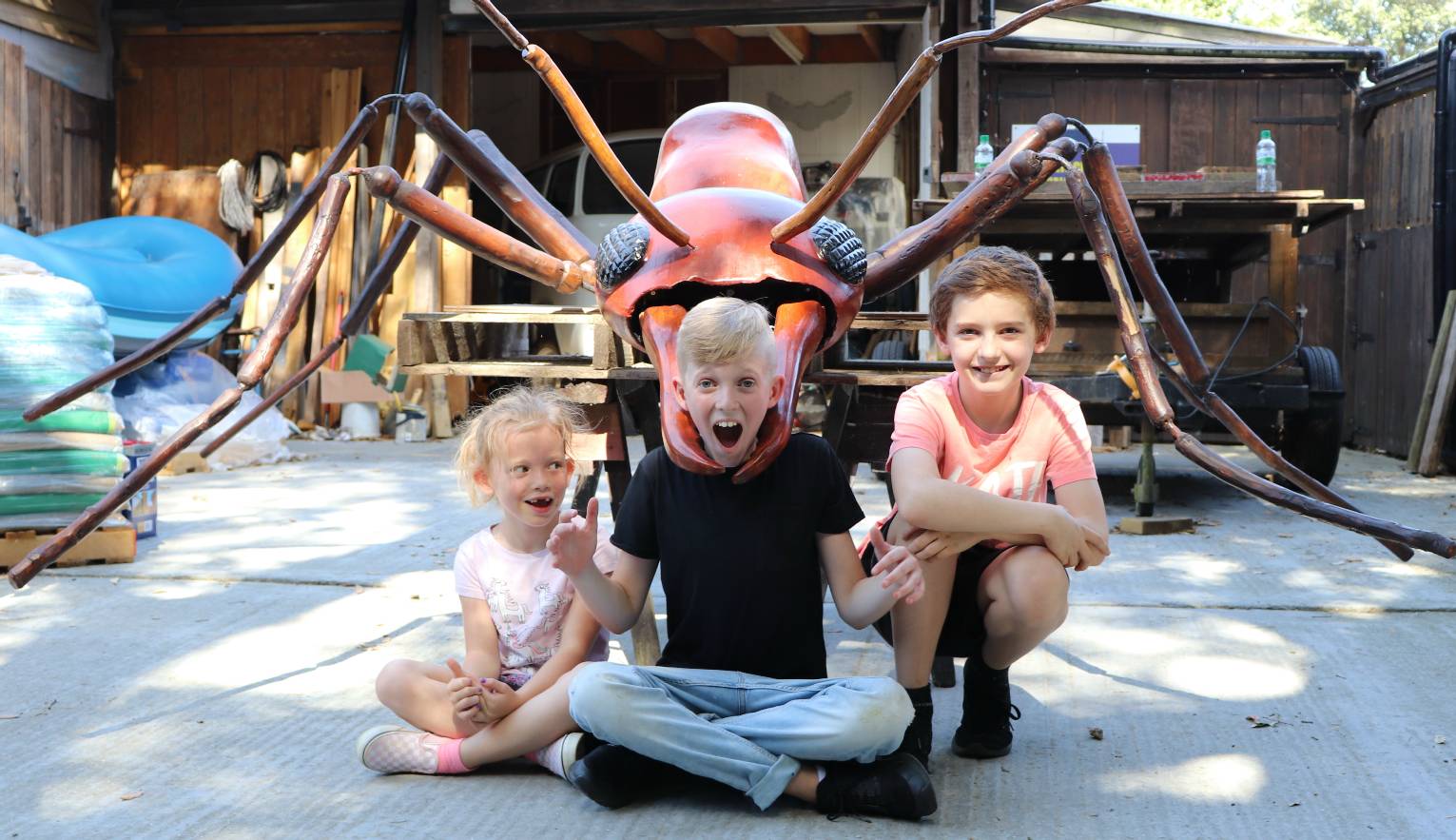 Some of Jimmy Watson's friends, with the Magic Dinobot

| | |
| --- | --- |
| | Dreaming about a robot hexapod, Christmas wish |
| | Marion finds Jimmy's moneybox |
| | More money in the moneybox, than expected |
| | Johnny Baxter's (The Johnson) detention, King Geek and the Geeklets |
| | Jimmy saves hard for nine months, while programming @ school |
| | Mum and Dad approve of Jimmy ordering his robot parts |
| | Dad builds Jimmy a shed for a workshop |
| | Dad's idea for Chameleon camouflage |
| | Jimmy begins Dinobot assembly |
| | Dad buys Jimmy a welder, and teaches him how to use it |
| | Jimmy installs the electric drive motors |
| | The copper cable wiring challenge |
| | Raspberry Pi, Arduino and smart phone computer micro processors |
| | Coding software extravaganza |
| | It moves, the Military review security with the PM & Buckingham Palace |
| | Johnny breaks into Jimmy's shed with a thug, and gets tazed |
| | Jimmy uploads AI, GPS and other enhancements |
| | Father Christmas and the elves in the North Pole |
| | Christmas Eve, Jimmy retires exhausted |
| | Jimmy dreams of Santa Claus and his Dinobot coming to life |
| | Christmas Day, Where is the Dinobot? |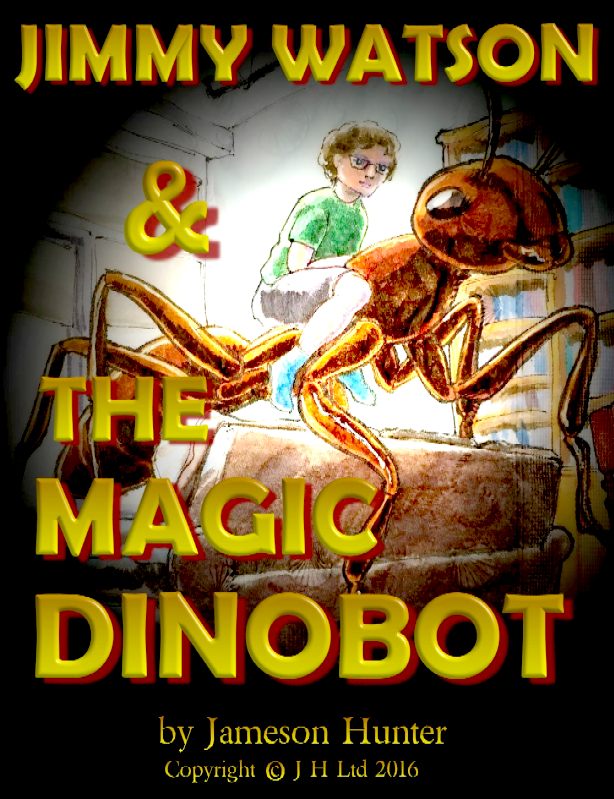 THE MAGIC DINOBOT - From Jameson Hunter, an original TV series idea, germinated in 2016. Jimmy dreams of building a giant robot ant as a special project, then one day his dreams come true when the robot he has built is transformed into a living, breathing, companion. NOTE: This story is Copyright © Jameson Hunter Ltd, March 30 2016. All rights reserved. You will need permission from the author to reproduce the book cover on the right or any part of the story published on this page.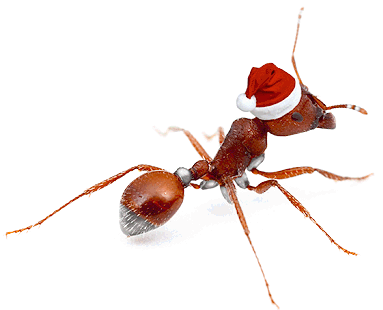 ANTICS - ARDUINO - ARMOUR - ARTWORK - BLACK BOX - ELECTRONICS - ENERGY - FRAME - FORMICARIUM
HEAD - JAWS - KITS - LEGS - MECHANICS - MOTORS - MOVIE - RASPBERRY Pi - R/C DRONE - SENTRY
SOFTWARE - SOUND PROOFING - SPACE ROVERS - SPEED - SUSPENSION - TAIL - WEAPONS - WARGAMING