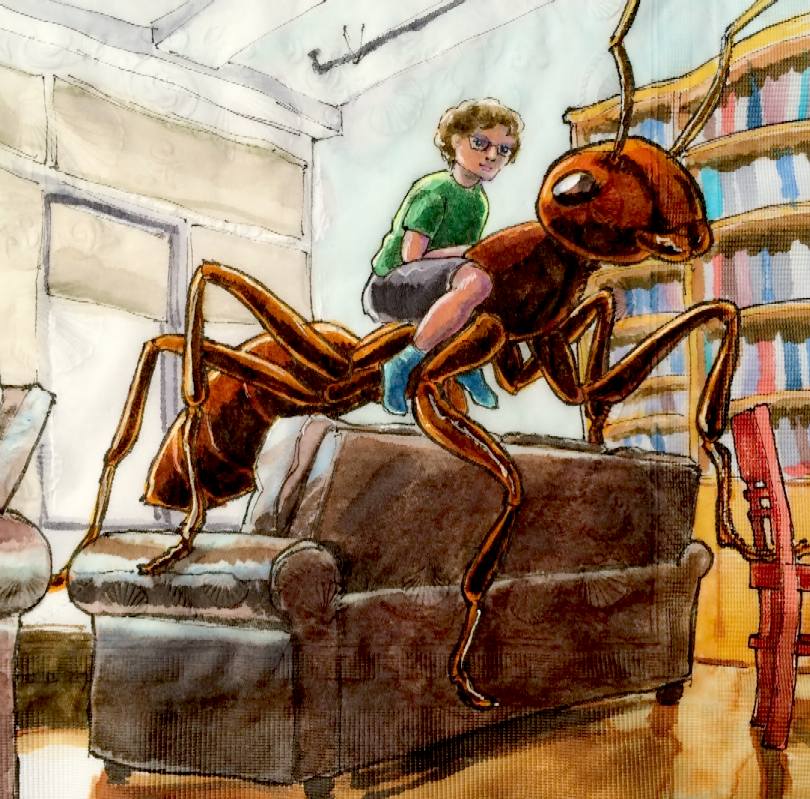 JIMMY WATSON - His mother, Marion, teases her son about his dreams to build a large robot ant with a drawing of her son riding on the ant's back. Then it comes true.

CHAPTER 3 - MORE MONEY IN THE SAVINGS BOX THAN EXPECTED
Saturday morning was when he got paid for his paper round. This week had been a big one with supplements adding to the load. Mr Garner was a very fair man and very tall. When he felt that his boys had worked hard, he included a generous bonus.
"Jimmy, you've really excelled yourself this week," said Mr Garner, handing Jimmy a small brown wages envelope. Jimmy opened it eagerly. Inside was thirty pounds and he had five pounds in tips. Thirty five pounds, he thought to himself - and broke into a huge grin.
"Thank you Mr Garner." Jimmy handed Mr Garner the empty canvas bag. On it's side was printed: Garners for News. Jimmy liked that. The tall paper man enjoyed Jimmy's smile, watching him scuttle off home excitedly. He also smiled. That was why he enjoyed running the paper shop with his brother. His customers got a crisp newspaper every morning early and his delivery boys got some spending money for doing a good job. It was win, win and they earned a decent living into the bargain.
At home again, Jimmy could not wait until Sunday. He wondered into every room in the house upstairs and then downstairs, to make sure the coast was clear. It seemed he had the house to himself, so he rushed back upstairs to his room and to the corner where he pried up the carpet and lifted the floorboard.
For a moment of mild panic he could not locate his money box, but reaching under the boards a little further he could feel it. Another stretch and he grabbed it and pulled it out. He took the key from around his neck and opened the lock. He always opened the lid slowly, like drawing back a curtain on a show.
He took out the money and laid it on the carpet in piles of one hundred pounds.
"On hundred, two hundred, three hundred, four hundred, five hundred. Wait a minute," gasped Jimmy. There was too much money. Last week he had counted four hundred and sixty pounds. Now there was over five hundred.
Jimmy added the thirty-five pounds for this week, and counted his secret savings again. He must have miscounted. So, he counted the money again very carefully making sure that each note was a single note.
"One hundred, two hundred, three hundred, four hundred, five hundred - and forty-five pounds." Jimmy was puzzled, there was now £545 pounds and change. How that had happened? It was impossible, but after counting it again, it was plain that he'd gained fifty pounds. He put the money box back under the floorboards and carefully fed the carpet under the skirting board. Then he did a little dance of excitement and shouted "YES."
Downstairs, his mother, Marion, was listening quietly. She heard the thumping from Jimmy dancing and his shout. She laughed quietly to herself, also feeling very pleased that Tim's ruse had worked. She opened and closed the back door, banging it closed louder than normal.
"Anyone home," she shouted.
Upstairs, Jimmy heard the door shut and his mother call out. He panicked for a moment.
"Up here mum." He trundled down the stairs nimbly, rushed over to his mum and gave her a big hug. He almost knocked her over.
"Pleased to see me?"
"I love you mum, and I'm so happy."
"Really dear, why is that? said Marion, pretending everything was normal.
"Um, it just is. No special reason. I did get a tip from my rounds this morning."
"Lovely Jimmy. Now don't forget to tidy your room, dad is coming home tomorrow."
Jimmy charged back upstairs and Marion laughed again at his excitement. She could not wait to share this moment with her husband.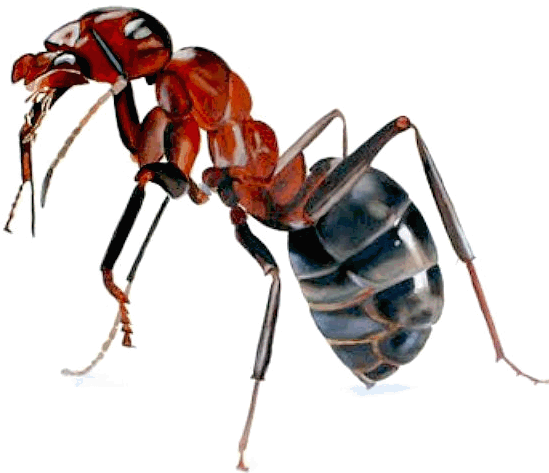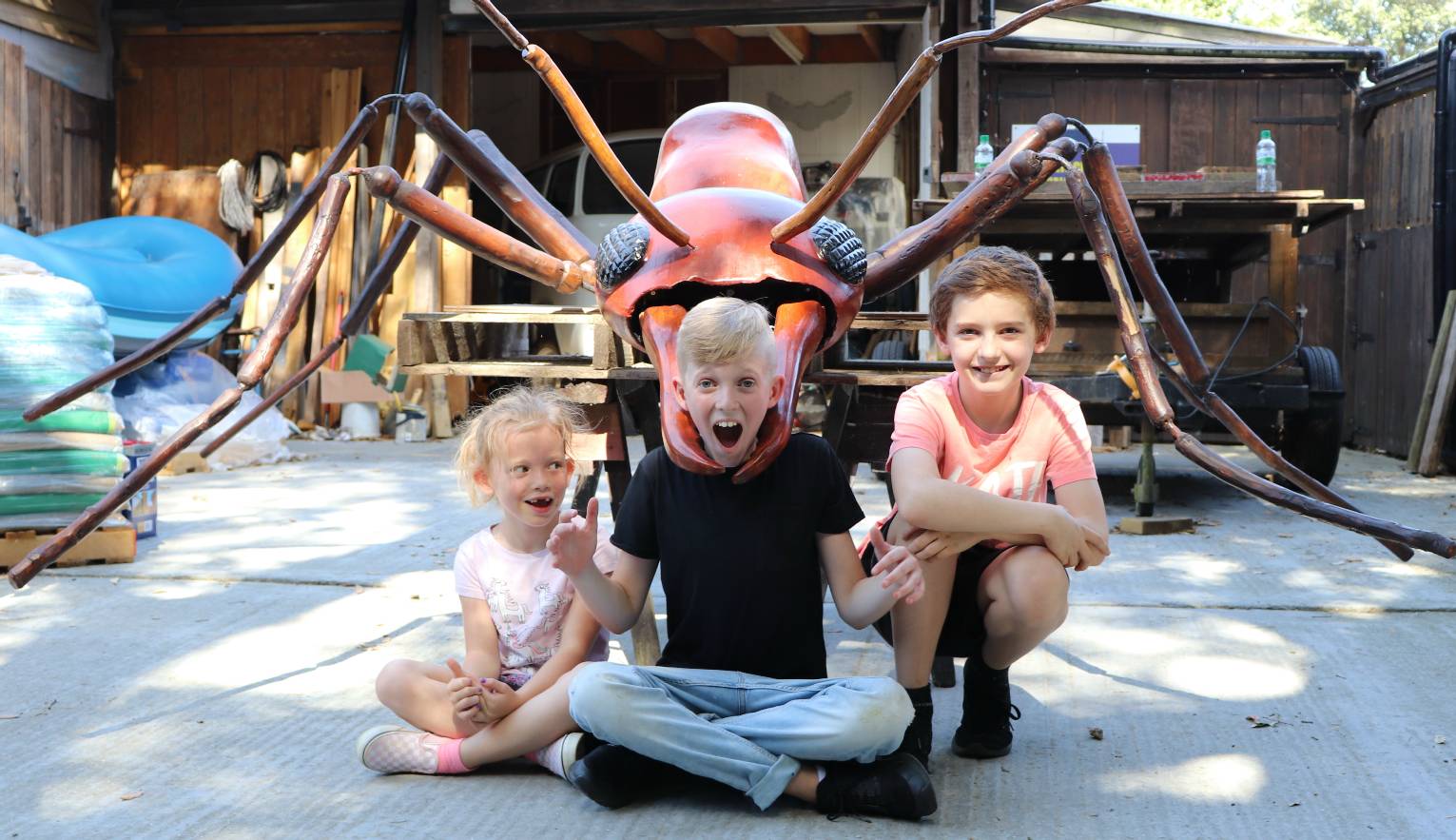 Some of Jimmy Watson's friends, with the Magic Dinobot

| | |
| --- | --- |
| | Dreaming about a robot hexapod, Christmas wish |
| | Marion finds Jimmy's moneybox |
| | More money in the moneybox, than expected |
| | Johnny Baxter's (The Johnson) detention, King Geek and the Geeklets |
| | Jimmy saves hard for nine months, while programming @ school |
| | Mum and Dad approve of Jimmy ordering his robot parts |
| | Dad builds Jimmy a shed for a workshop |
| | Dad's idea for Chameleon camouflage, invisibility cloak |
| | Jimmy begins assembling the Dinobot |
| | Dad buys Jimmy a welder, and teaches him how to use it |
| | Jimmy installs the electric drive motors |
| | The copper cable wiring challenge |
| | Raspberry Pi, Arduino and smart phone computer micro processors |
| | Coding software extravaganza |
| | It moves, the Military review security with the PM & Buckingham Palace |
| | Johnny breaks into Jimmy's shed with a thug, and gets tazed |
| | Jimmy uploads AI, GPS and other enhancements |
| | Father Christmas and the elves in the North Pole |
| | Christmas Eve, Jimmy retires exhausted |
| | Jimmy dreams of Santa Claus and his Dinobot coming to life |
| | Christmas Day, Where is the Dinobot? |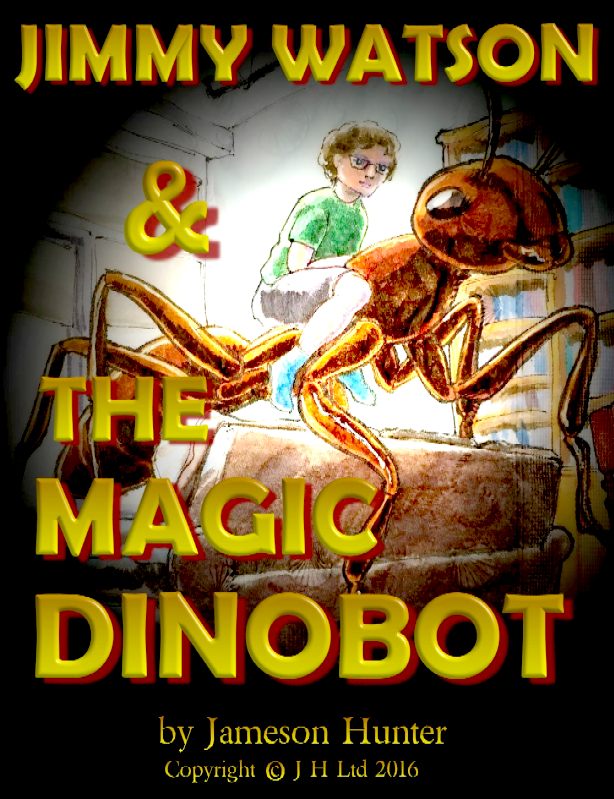 THE MAGIC DINOBOT - From Jameson Hunter, an original TV series idea, germinated in 2016. Jimmy dreams of building a giant robot ant as a special project, then one day his dreams come true when the robot he has built is transformed into a living, breathing, companion. NOTE: This story is Copyright © Jameson Hunter Ltd, March 30 2016. All rights reserved. You will need permission from the author to reproduce the book cover on the right or any part of the story published on this page.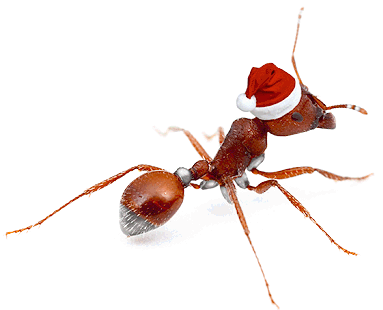 ANTICS - ARDUINO - ARMOUR - ARTWORK - BLACK BOX - ELECTRONICS - ENERGY - FRAME - FORMICARIUM
HEAD - JAWS - KITS - LEGS - MECHANICS - MOTORS - MOVIE - RASPBERRY Pi - R/C DRONE - SENTRY
SOFTWARE - SOUND PROOFING - SPACE ROVERS - SPEED - SUSPENSION - TAIL - WEAPONS - WARGAMING