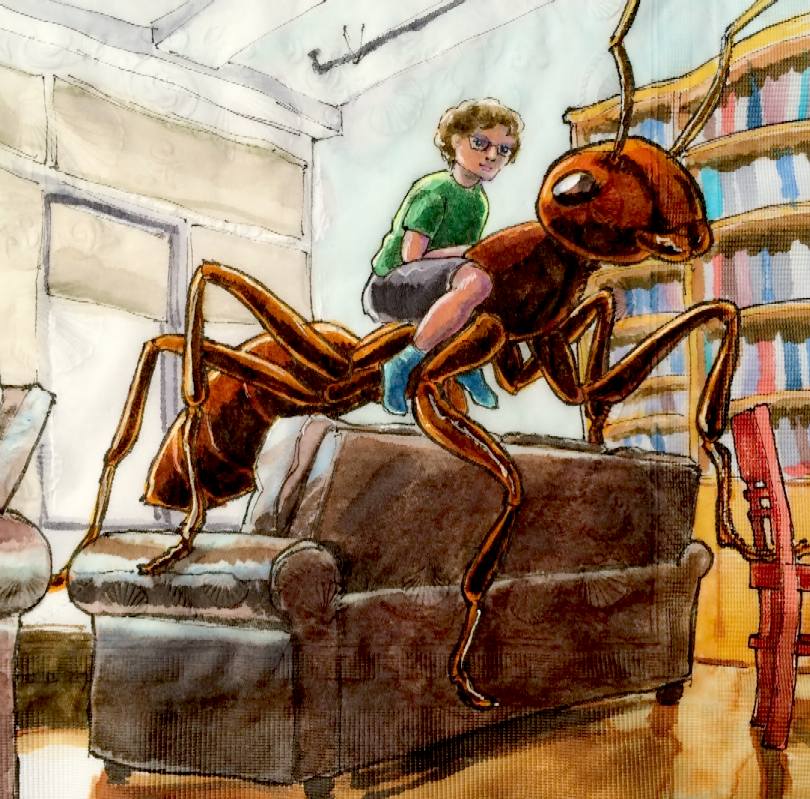 JIMMY WATSON - His mother, Marion, teases her son about his dreams to build a large robot ant with a drawing of her son riding on the ant's back. Then it comes true.

CHAPTER 18 - FATHER CHRISTMAS AND HIS ELVES IN THE NORTH POLE


It was snowing white clouds of patterned iced water crystals in the North Pole. Just how Father Christmas liked it, and that put him in a good mood. Nice and cold, with a scenic blanket all crisp and clean.
He felt a tingling, reminding him that someone had made a special wish. A most unusual request. Not just for the ordinary, but for the extraordinary. Almost the impossible. A challenge indeed, for even the jolly big chap that all nice children look to for reward. And all naughty boys and girls fight shy of.
"How has that scamp Jimmy Watson done?" Santa Claus looked to Great Papa Elf. Great Papa knew this moment was coming, terrified for some of the time, and at the same time relieved, most of the time.
Great Papa Elf had kept more than just tabs on young Jimmy. He was so taken in by the effort of this boy from the little village of Herstmonceux in Sussex, that after the first month he'd kept a running journal. For so to be believed.
"You'd better have a read of this for yourself, Santa, lest you think my summary an exaggeration, or distortion of the events."
Papa Elf handed his journal to Father Christmas. Santa, taking note of the warning, and fearing the worst of it. Though praying for the best.
"Heavy it is, but filled with naughtiness, or filled with niceness?" Papa Elf smiled to himself, for he knew what was in the extensive volume. A work of record that he was rightly proud of.
"Aha." Santa Claus opened the volume to the first page, and read in silence. His face creased, into a wry smile. He turned the page and read to himself. "Oh." His smile growing ever so slightly. He turned to page three.
.....
Lapland had kept tabs on Jimmy's progress. They impressed on Santa, that this young man from the little village of Herstmonceux, had kept his promise to be good. Not only that, but Jimmy's unwavering efforts had brought constant joy to his parents and school teachers. Father Christmas, reviewed the progress reports, and laughed out loud: Ho, ho, ho. His mirthful roar was heard in all his workshops. The elves knew Santa was more than just a little impressed by little Jimmy's amazing achievements.
At first the Dinobot powered up, and obeyed simple voice commands that Jimmy used to be sure the machine was functioning correctly. He named his creation, Anthony. Anthony was put on standby mode that evening. As Jimmy locked up his shed. Then Jimmy could not keep his eyes open any longer, only just making it to his bedroom. He fell asleep as soon as his head hit the pillow. Jimmy enjoying a deep sleep, during which he dreamed that Anthony, had come to life.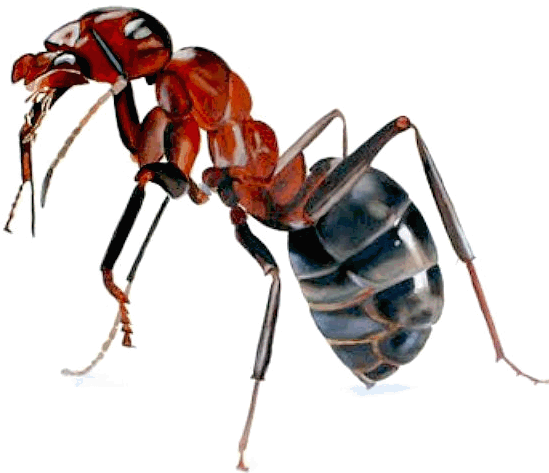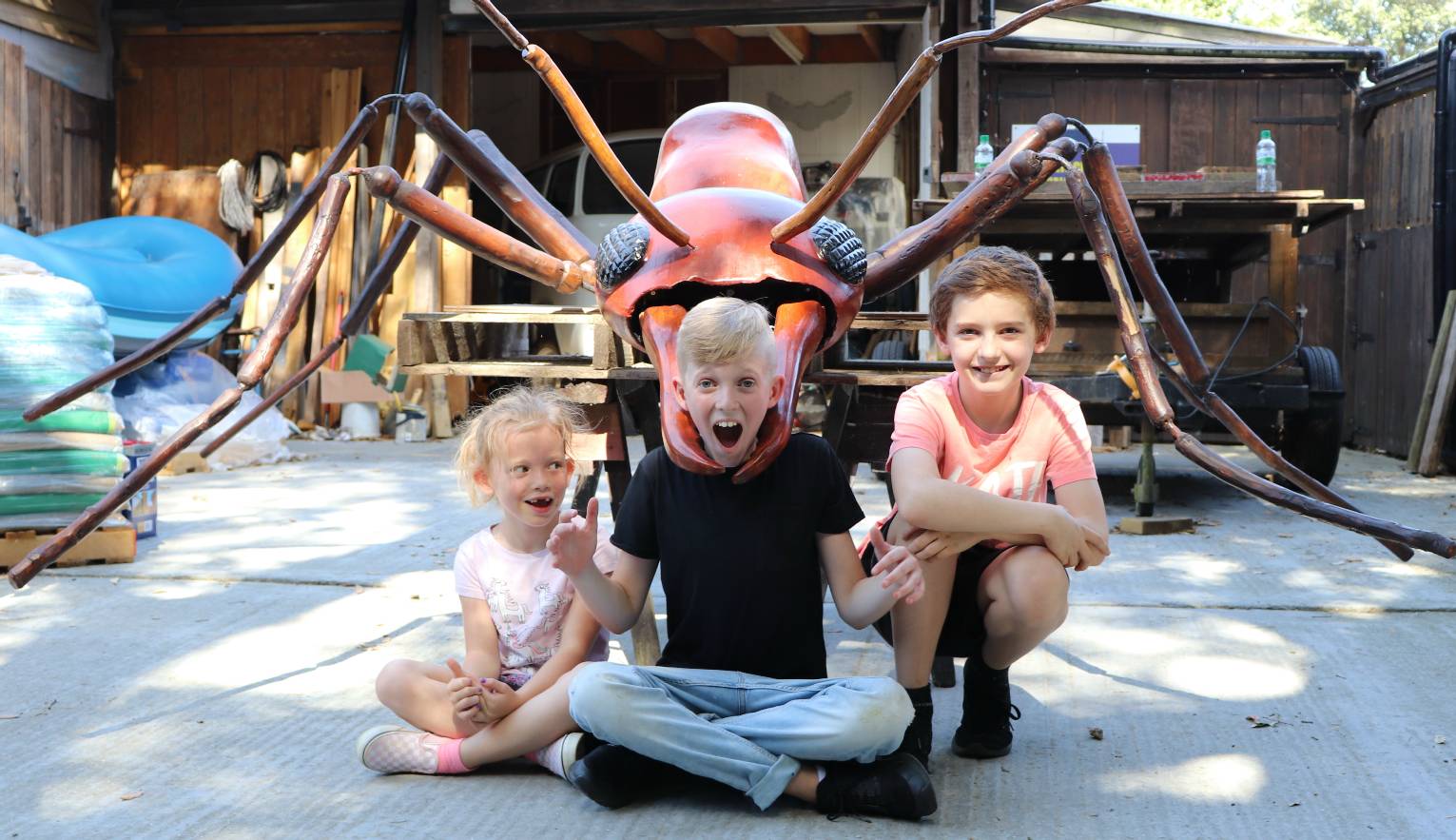 Some of Jimmy Watson's friends, with the Magic Dinobot

| | |
| --- | --- |
| | Dreaming about a robot hexapod, Christmas wish |
| | Marion finds Jimmy's moneybox |
| | More money in the moneybox, than expected |
| | Johnny Baxter's (The Johnson) detention, King Geek and the Geeklets |
| | Jimmy saves hard for nine months, while programming @ school |
| | Mum and Dad approve of Jimmy ordering his robot parts |
| | Dad builds Jimmy a shed for a workshop |
| | Dad's idea for Chameleon camouflage, invisibility cloak |
| | Jimmy begins assembling the Dinobot |
| | Dad buys Jimmy a welder, and teaches him how to use it |
| | Jimmy installs the electric drive motors |
| | The copper cable wiring challenge |
| | Raspberry Pi, Arduino and smart phone computer micro processors |
| | Coding software extravaganza |
| | It moves, the Military review security with the PM & Buckingham Palace |
| | Johnny breaks into Jimmy's shed with a thug, and gets tazed |
| | Jimmy uploads AI, GPS and other enhancements |
| | Father Christmas and the elves in the North Pole |
| | Christmas Eve, Jimmy retires exhausted |
| | Jimmy dreams of Santa Claus and his Dinobot coming to life |
| | Christmas Day, Where is the Dinobot? |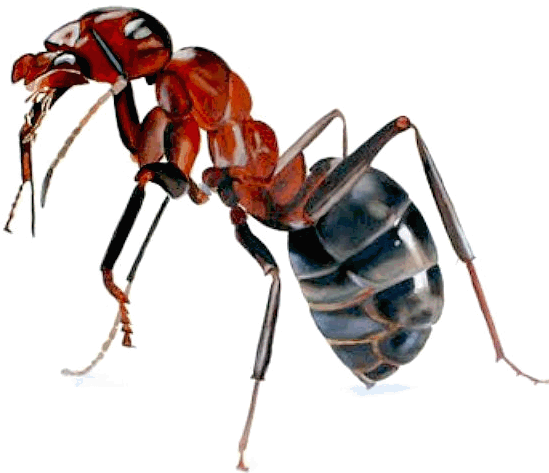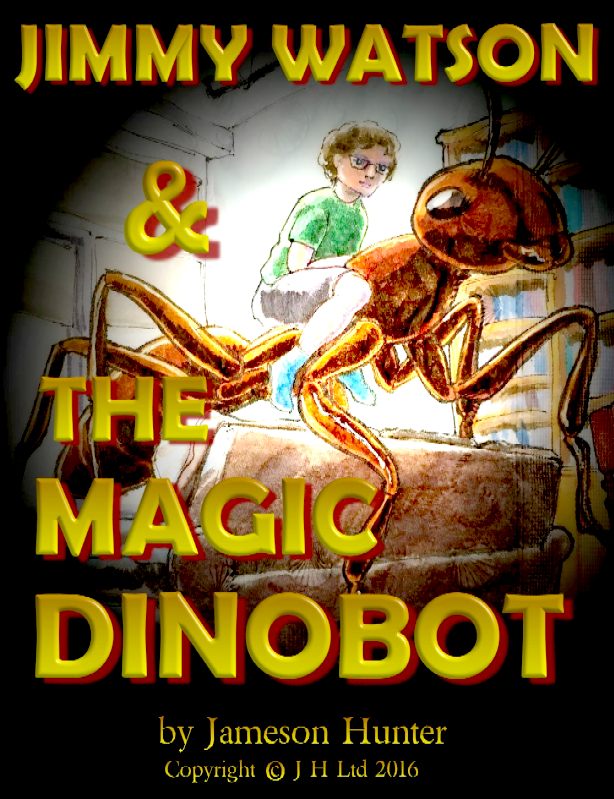 THE MAGIC DINOBOT - From Jameson Hunter, an original TV series idea, germinated in 2016. Jimmy dreams of building a giant robot ant as a special project, then one day his dreams come true when the robot he has built is transformed into a living, breathing, companion. NOTE: This story is Copyright © Jameson Hunter Ltd, March 30 2016. All rights reserved. You will need permission from the author to reproduce the book cover on the right or any part of the story published on this page.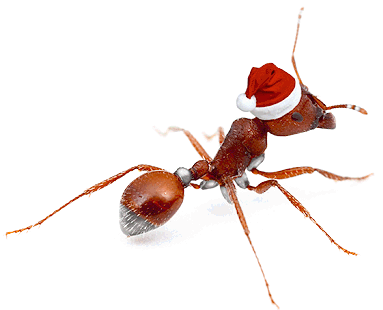 ANTICS - ARDUINO - ARMOUR - ARTWORK - BLACK BOX - ELECTRONICS - ENERGY - FRAME - FORMICARIUM
HEAD - JAWS - KITS - LEGS - MECHANICS - MOTORS - MOVIE - RASPBERRY Pi - R/C DRONE - SENTRY
SOFTWARE - SOUND PROOFING - SPACE ROVERS - SPEED - SUSPENSION - TAIL - WEAPONS - WARGAMING