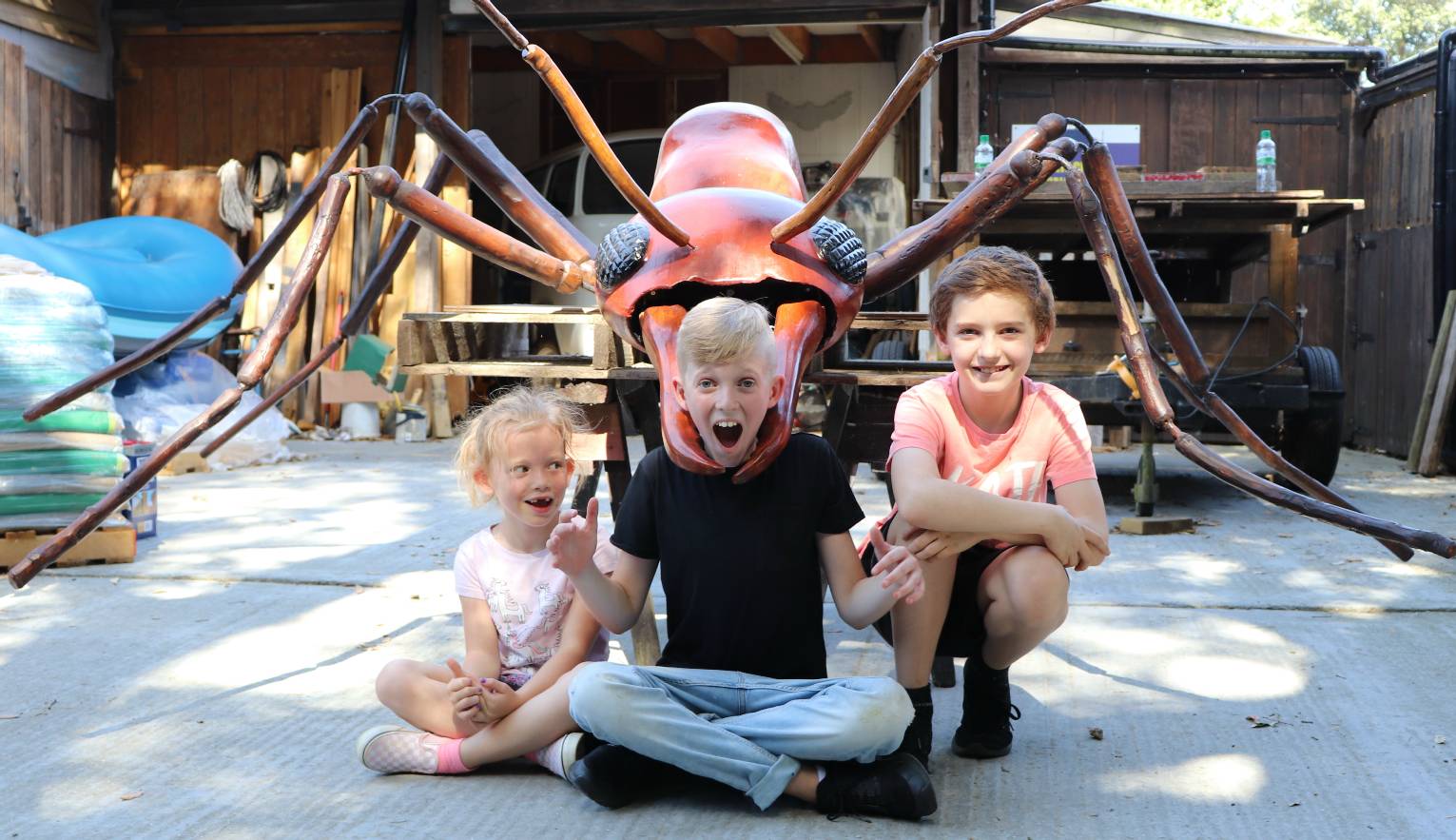 Some of Jimmy Watson's friends, with the Magic Dinobot
1954 SCI-FI CLASSIC MOVIE - 'THEM'

Them! is a 1954 American black-and-white science fiction film from Warner Bros. Pictures produced by David Weisbart, directed by Gordon Douglas, and starring James Whitmore, Edmund Gwenn, Joan Weldon, and James Arness. The film is based on an original story treatment by George Worthing Yates, which was then developed into a screenplay by Ted Sherdeman and Russell Hughes.

Them! is one of the first of the 1950s "nuclear monster" movies, and the first "big bug" feature. A nest of gigantic irradiated ants is discovered in the New Mexico desert; they quickly become a national threat when it is discovered a young queen ant and her consorts have escaped to establish a new nest. The national search that follows finally culminates in a battle with Them in the concrete spillways and sewers of Los Angeles.
THEM - MOVIE PLOT

New Mexico State Police troopers Ben Peterson (James Whitmore) and Ed Blackburn (Chris Drake) discover a little girl in shock, wandering the desert near Alamogordo, New Mexico. They retrace her steps to a mobile home owned by an FBI agent named Ellinson, who was on vacation in the area with his family. The side of the trailer was ripped open from the outside, the rest of the family is missing and no money was taken. A single unidentifiable animal track seems to be the only clue. Then a strange, pulsating high-pitched noise echos out of the desert on the wind. The little girl briefly reacts in fear when she hears the sound, but this is not noticed by those around her.

A general store owner named "Gramps" Johnson is found dead; his store is also torn apart from the outside. No cash was taken, but a barrel of sugar was smashed open. Gramps' Winchester rifle was fired and is now twisted out of shape. Peterson leaves by car to check on the little girl and make a report, leaving Blackburn to guard the store. Blackburn hears the strange, pulsating sound outside and leaves to investigate; off-camera gunshots are fired, the strange sound grows faster and louder, and Blackburn's scream is heard.

A plaster cast of the odd footprint found near the trailer is sent to Washington, D.C. Peterson's boss later points out that Gramps had time to fire all his ammunition at his attacker, and Peterson's missing partner was a "crack shot", eliminating the possibility of a homicidal maniac. Even more puzzling is the coroner's determination of Johnson's cause of death: a broken neck and back, skull fracture, crushed abdomen, and "enough formic acid in his body to kill 20 men".

The FBI sends Agent Robert Graham (James Arness) to investigate after the Bureau is unable to identify the footprint. With him he brings Drs. Harold Medford (Edmund Gwenn) and his daughter Pat Medford (Joan Weldon), both myrmecologists from the Department of Agriculture. The elder Medford examines the footprint. He later exposes the Ellinson girl to formic acid fumes, which revives her from a catatonic state; she screams, "Them! Them!"

Though his suspicions are validated by the girl's reaction, Medford will not reveal his theory; doing so prematurely might lead "to a nationwide panic". While investigating the Ellinson campsite, Pat screams when she encounters a giant, eight-foot long foraging ant. The lawmen run to her aid and empty their pistols into the insect with little effect. On directions from the elder Medford, Peterson and Graham destroy the ant's antennae, blinding it; they then kill it with sustained fire from a Thompson submachine gun. Harold finally reveals his theory: a colony of giant ants, mutated by radiation from the first atomic bomb test near Alamogordo, is responsible for the killings.

A helicopter search conducted by the Medfords, Peterson, Graham, and Major Kibby, on orders from General O'Brien, discovers the ants' nest. Cyanide gas bombs are tossed into it, and Graham, Peterson, and Pat descend into the nest to kill any survivors. Deep inside, Pat finds evidence that two queen ants have hatched and have escaped to establish new colonies. To avoid a general panic, the elder Medford gives a government task force a briefing on ants, as the government covertly investigates all reports of any unusual activity, even sightings of "flying saucers".

The first report comes from south Texas where a private pilot (Fess Parker) has been committed to a mental hospital after claiming that his aircraft was forced down by UFOs, shaped like giant ants. Next, the Coast Guard receives a report of a giant queen hatching her brood in the hold of a freighter at sea in the Pacific; giant ants attack the ship's crew and there are few survivors. The freighter is later sunk by U. S. Navy gunfire, eliminating one of the queens.

A third report comes in that leads Peterson, Graham, and Major Kibby to a rail yard in Los Angeles where a smashed boxcar has been emptied of 40 tons of sugar. An alcoholic in a hospital "drunk tank" claims to have seen giant ants outside his window. The mutilated body of a father is recovered, but his two young sons with him are missing. Peterson, Graham, and Kibby find evidence that the dad and kids were flying a model aircraft in the Los Angeles River drainage channel near the hospital. Given the apparent convergence of sightings, the President of the United States declares martial law in Los Angeles; more troops are assigned to find the new nest in the vast storm drain network under the city.

Peterson finds the two missing boys alive deep inside the drain system, but they are trapped near the ants' nest. He calls for reinforcements and goes in alone to rescue them, getting both boys to safety just before he is attacked by a giant ant. Graham arrives with reinforcements and kills the ant attacking Peterson, as others swarm to protect the nest. Peterson dies from his injuries. Graham and the other soldiers fight off the ants, but a tunnel collapse isolates Graham. Several ants charge him, but he is able to hold them off with his machine gun just long enough for the other troops to break through and make the rescue. The queen and her young hatchlings are discovered and destroyed with flame throwers.

Afterward, Dr. Medford makes a philosophic observation: "When Man entered the Atomic Age, he opened the door to a new world. What we may eventually find in that new world, nobody can predict."




THEM - MOVIE PRODUCTION

When Them! began production in the fall of 1953, it was originally conceived to be in 3-D and Warner Color. During pre-production, tests were to be shot in color and 3-D. A few color tests were shot of the large-scale ant models, but when it was time to shoot the 3-D test, Warner Bros' "All Media" 3-D camera rig malfunctioned and no footage could be filmed. The next day, a memo was sent out that the color and 3-D aspects of the production were to be scrapped; black and white and widescreen would now be the film's format. Warner Bros. hoped to emulate the "effective shock treatment" effect of its previous science fiction thriller The Beast From 20,000 Fathoms; ultimately, however, the film was not shot in widescreen. Because of the preparation of certain shots, many of the camera set-ups for 3-D still remain in the film, like the opening titles and the flame throwers shots aimed directly at the camera.

Although Warner Bros. was dissatisfied with the color results, the film's titles were printed in a vivid red and blue against a black and white background to give the opening of the film a dramatic "punch". This effect was achieved by an Eastman Color section spliced into each film print. The VHS tape release in 1985, the subsequent laser disc, and the later DVD release have retained this black and white with color title effect.

The entrance to the ants' final nest was shot along the concrete spillways of the Los Angeles River, between the First and Seventh Street Bridges, east of downtown. The depiction of the Chihuahua Desert of southern New Mexico is actually the Mojave Desert near Palmdale, California. Mercy Hospital was a real institution and is now Brownsville Medical Center.

Actor James Whitmore wore "lifts" in his shoes to compensate for the height difference between himself and James Arness. It has also been noted that Whitmore employed bits of "business" (hand gestures and motions) during scenes in which he appeared to draw more attention to his character when not speaking.

The Wilhelm scream, created three years earlier for the film Distant Drums, is used during the action sequences: when a sailor aboard the freighter is grabbed by an ant, when James Whitmore's character is caught in an ant's mandibles, and when an overhead wooden beam falls on a soldier in the Los Angeles storm-drain sequence.

The giant ants were constructed and operated by unseen technicians supervised by Ralph Ayers, and were actually purplish-green in color. During the climactic battle sequence in the Los Angeles sewers, there is a brief shot of one ant moving in the foreground with its side removed, revealing its mechanical interior. This blunder has been obscured in the DVD releases of the film.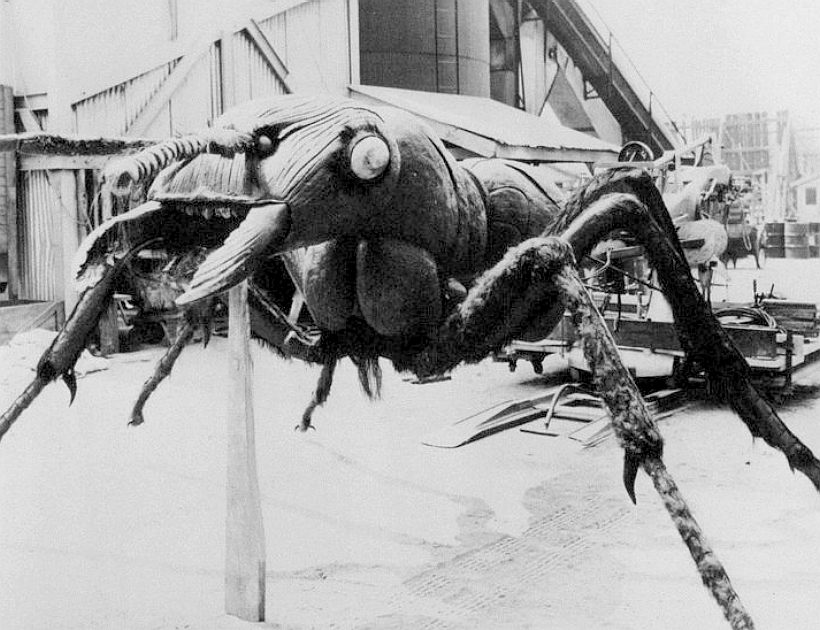 THEM - MOVIE RECEPTION

Them! was released in June 1954 and by the end of that year, had accrued US $2 million in distributors' domestic (U.S. and Canada) rentals, making it the year's 51st biggest earner. It was Warner Bros. highest grossing film that year.

The New York Times review noted "... from the moment James Whitmore, playing a New Mexico state trooper, discovers a six-year-old moppet wandering around the desert in a state of shock, to the time when the cause of that mental trauma is traced and destroyed, Them! is taut science fiction." The reviewer in Variety opined it was a "top-notch science fiction shocker. It has a well-plotted story, expertly directed and acted in a matter-of-fact style to rate a chiller payoff and thoroughly satisfy the fans of hackle-raising melodrama."

Since its original release, Them! has become generally regarded as one of the very best science fiction films of the 1950s. Bill Warren described the film as " ... tight, fast-paced and credible ... [T]he picture is suspenseful." Phil Hardy's The Aurum Film Encyclopedia: Science Fiction noted, "Directed by [Gordon] Douglas in semi-documentary fashion, Them! is one of the best American science fiction films of the fifties." Danny Peary believed the film "Ranks with The Thing and Invasion of the Body Snatchers as the best of the countless 50s science fiction films." In the Time Out Film Guide, David Pirie wrote, "By far the best of the 50s cycle of 'creature features' ... retains a good part of its power today." The review aggregator website Rotten Tomatoes reported a 100% approval rating with an average rating of 7.6/10, based on 26 reviews. The website's consensus reads, "One of the best creature features of the early atomic age, Them! features effectively menacing special effects and avoids the self-parody that would taint later monster movies."

Them! was nominated for an Oscar for its special effects and won a Golden Reel Award for best sound editing. The film has been nominated for two American Film Institute lists, AFI's 100 Years...100 Thrills and AFI's 10 Top 10 (science fiction genre).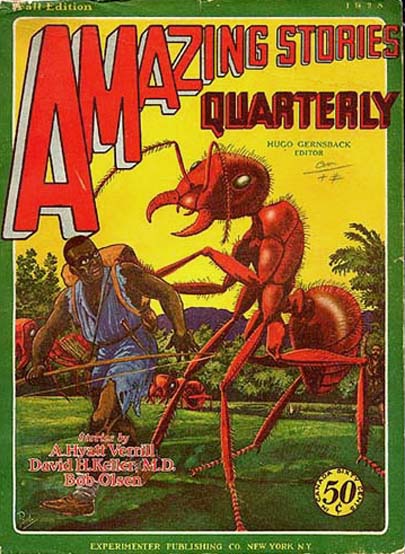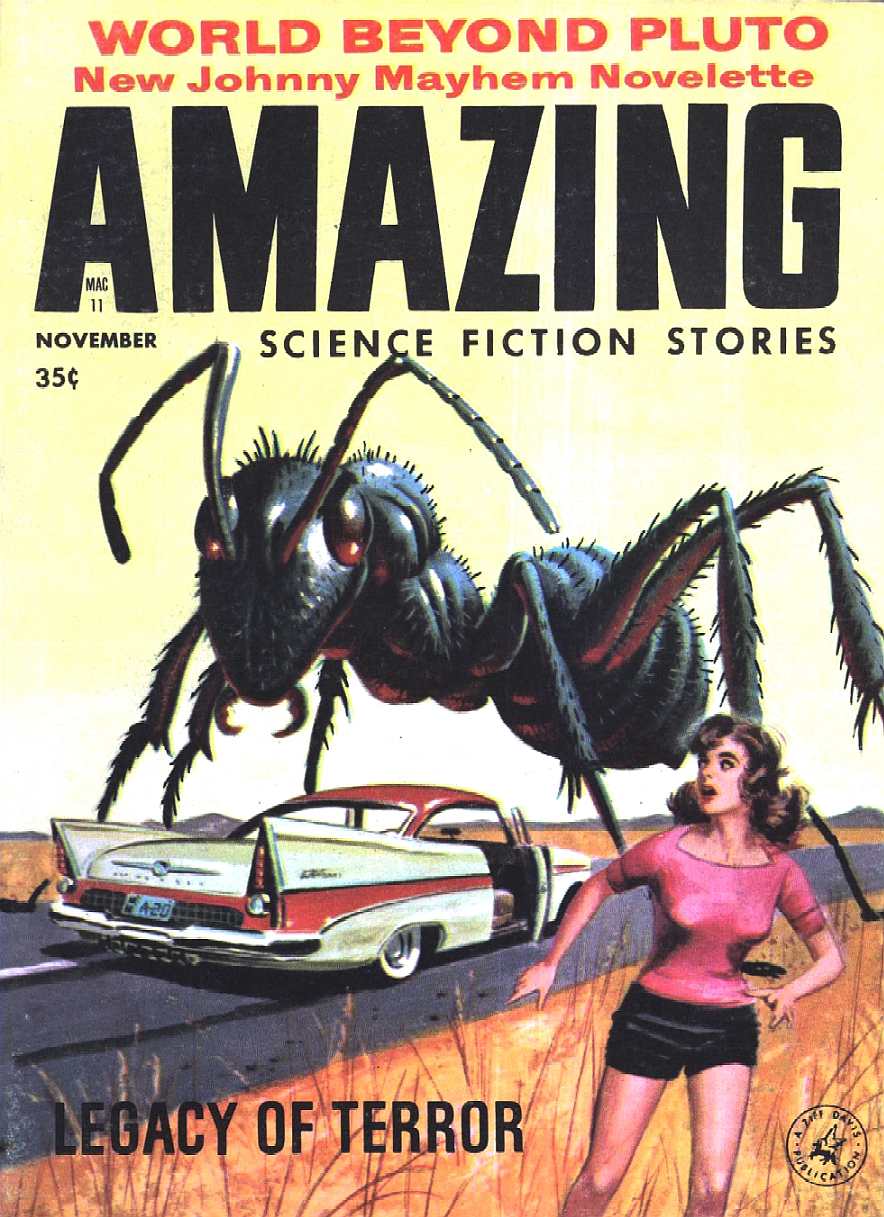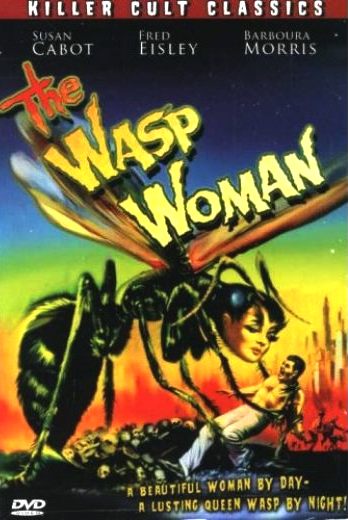 A sample of horror, science fiction comics, with giant ants or wasps at their theme
CHAPTERS - CHARACTERS - FILMS - MAGIC - PLOT OUTLINE - SECTASAUR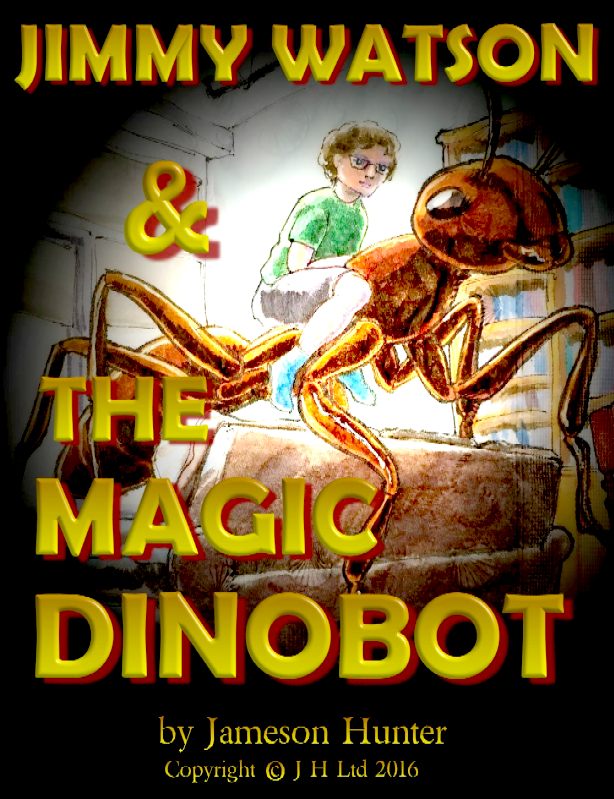 THE MAGIC DINOBOT - From Jameson Hunter, an original short story with potential for adaptation as a TV series idea, germinated in 2016. While attending a school in Hailsham, Jimmy dreams of building a giant robot ant as a special project, then one day his dreams come true when the robot he has built is transformed into a living, breathing, companion. NOTE: This story is Copyright © Jameson Hunter Ltd, March 30 2016. All rights reserved. You will need permission from the author to reproduce the book cover on the right or any part of the story published on this page. JIMMY WATSON - His mother, Marion, teases her son about his dreams to build a large robot ant with a drawing of her son riding on the ant's back. Then it comes true.
ANTICS - ARMOUR - ARTWORK - BLACK BOX - ELECTRONICS - ENERGY - FRAME - HEAD - JAWS - KITS - LEGS - MECHANICS
MOTORS - R/C DRONE - SENTRY - SOFTWARE - SOUND PROOFING - SPEED - SUSPENSION - TAIL - WARGAMING - WEAPONS