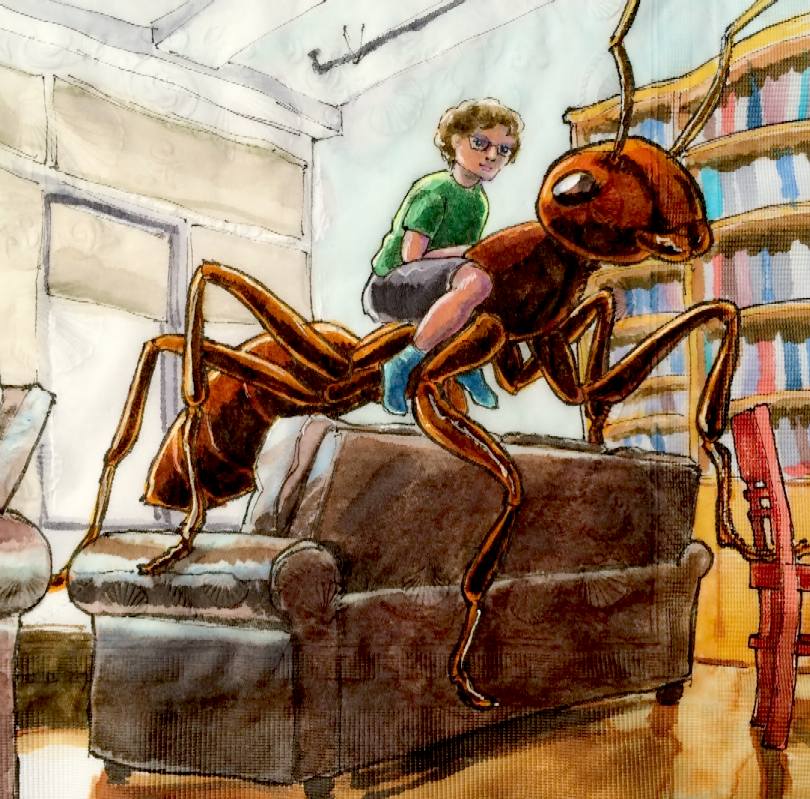 JIMMY WATSON - His mother, Marion, teases her son about his dreams to build a large robot ant with a drawing of her son riding on the ant's back. Then it comes true.

The 'Naughty List' is a book of the names of children who misbehave during the preceding years. If a boy or girl misbehave, but do some good deeds, it is possible to get back on the 'Nice List.' If they are persistently naughty, they can be excluded from Christmas cheer and good will for life. But for that to happen, they would have to be exceptionally naughty.
The Naughty List only applies to children who believe in Father Christmas, or once beleived. But, strangely, even those who do not believe in Santa Claus, deep down hope that he is real. And that means that they know about the Nice List. But, for some reason, are unable to behave themselves for long enough, to be nice.
Children who become adults and stay naughty, are reminded of their bad deeds from time to time, even though Santa would not deliver presents to them, because they are too old to believe, or become believers. Their bad deeds stay with them for life, excepting only if they do something really good to redeem themselves. But, that almost never happens.
Persistently bad children, might end up as civil servants in adult life, where they can continue to be bad, causing nice people a lot of unnecessary pain and suffering, such as unfair taxes, and overpriced food and energy, leading to an unstable planet. About which Father Christmas and his elves are very worried, as both the North and Antarctic South Poles are melting because of this bad behaviour. For sure, those habitually nasty persons do not go to heaven to see Saint Peter. They are more likely to end up visiting the Devil in Hades, spending time with Boris Johnson in the cells of the damned.
JIMMY WATSON
Jimmy does not want to be on the naught list. Though, he knows, or thinks, he has done some things that might put him there. He always tries to do better, so that where he may have strayed, he might neutralize his lapses in judgment.
SANTA CLAUS

Santa Claus, also known as Father Christmas, Saint Nicholas, or simply Santa, is a jolly, bearded figure who mainly dresses in red outfits, Santa is said to bring gifts during the late evening and overnight hours on Christmas Eve to "nice" children, and either coal or nothing to "naughty" children.

FATHER CHRISTMAS

Father Christmas dates back to reign of Henry VIII, when he was pictured as a large man in green or scarlet robes lined with fur. He typified the spirit of good cheer at Christmas, bringing peace, joy, good food and wine and revelry, at a time of year when life is cold and hard.

The image of Santa Claus as a benevolent character became reinforced with its association with charity and philanthropy, particularly by organizations such as the Salvation Army. Volunteers dressed as Santa Claus became part of fundraising drives to aid needy families at Christmas time.

There is no doubt that Christmas celebrations would not be the same, if there was no Father Christmas, or Santa Claus.

The fact the celebrations coincide with the religious birth of Jesus Christ, does not seem to matter to many of a different faith. And why shouldn't other faiths enjoy what is after all, simply a family get together in winter, when it is only natural to want to enjoy a hearty feast. And give gifts to each other, to show affection.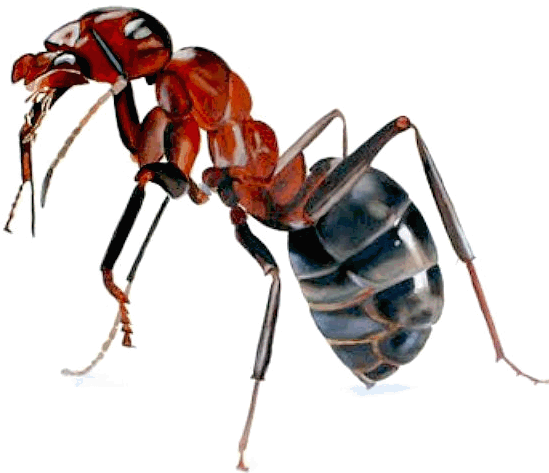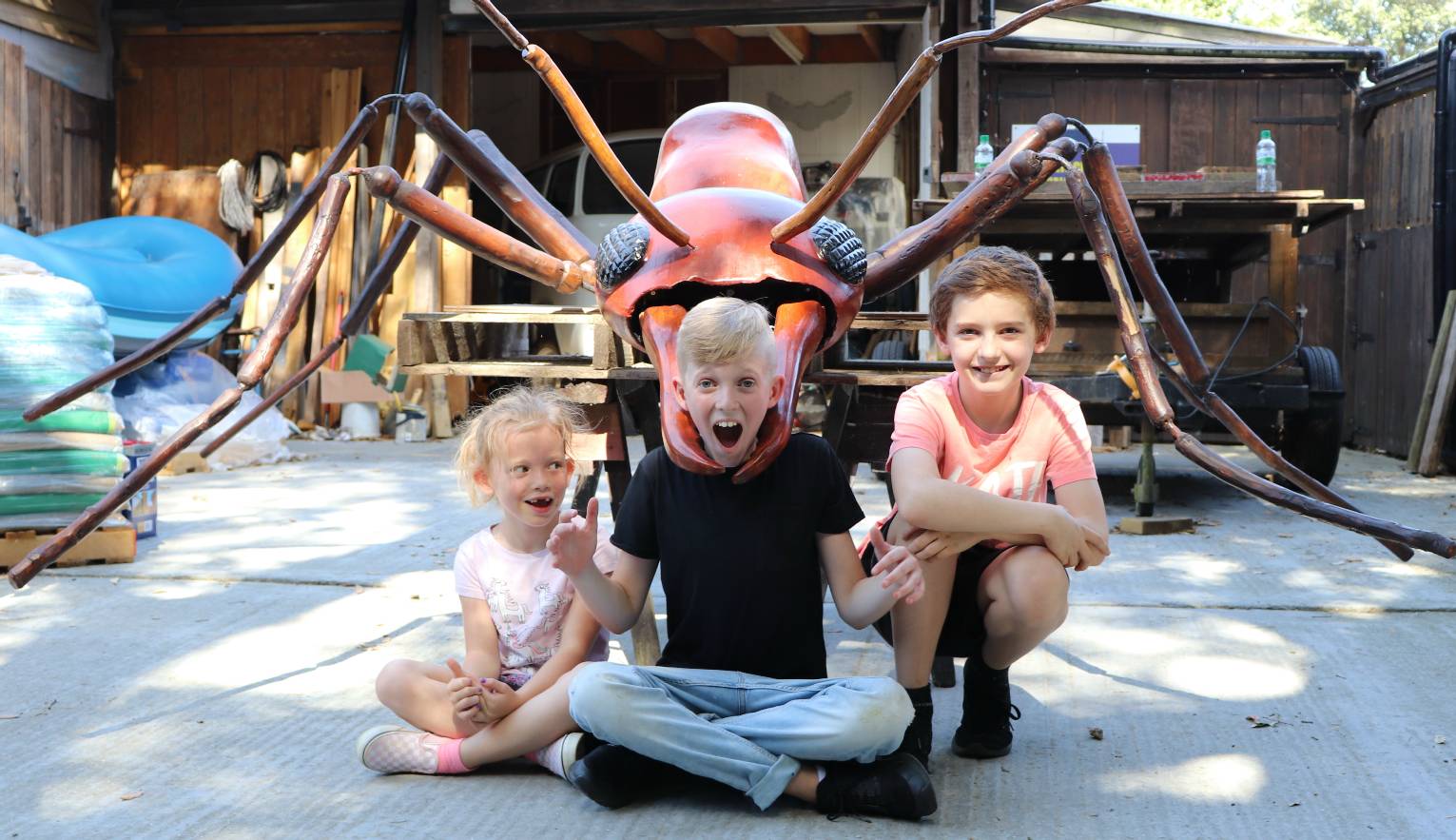 Some of Jimmy Watson's friends, with the Magic Dinobot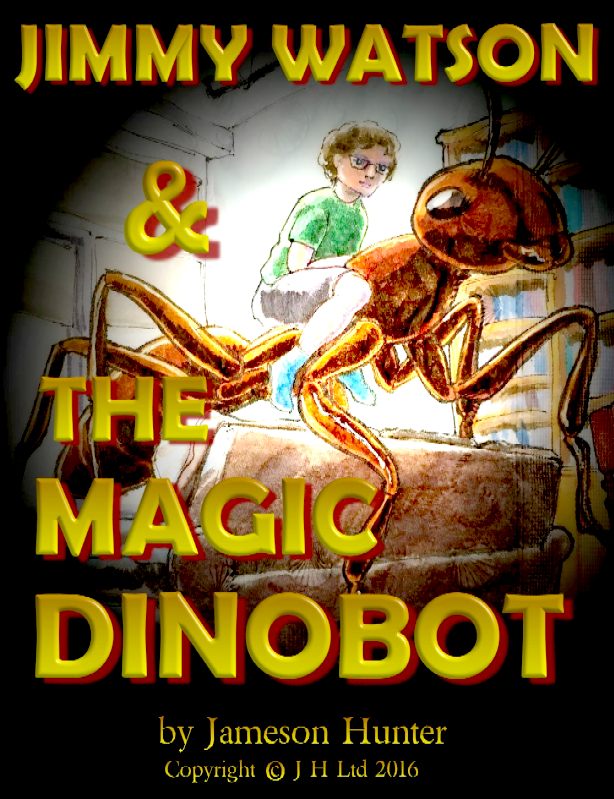 THE MAGIC DINOBOT - From Jameson Hunter, an original TV series idea, germinated in 2016. Jimmy dreams of building a giant robot ant as a special project, then one day his dreams come true when the robot he has built is transformed into a living, breathing, companion. NOTE: This story is Copyright © Jameson Hunter Ltd, March 30 2016. All rights reserved. You will need permission from the author to reproduce the book cover on the right or any part of the story published on this page.